Greer's Daily Dose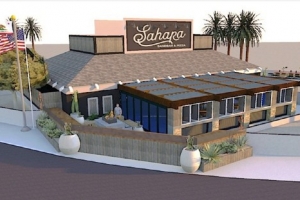 New Concessions Concepts Coming to Huntington State Beach
04.22.21
Beginning this spring, creator Alicia Whitney and the team behind acclaimed concessions along Bolsa Chica State Beach will add another milestone to Huntington Beach. Prjkt Restaurant Group has inked a 10-year agreement, in partnership with the California State Park System, for three new beach concessions and a re-envisioned beach rental kiosk along a 3-mile stretch of Huntington State Beach. The beachside locations are set to begin operations to the public starting in late spring 2021, following CDC guidelines. The contract comes five years after Prjkt Restaurant Group enhanced Bolsa Chica State Beach concessions in 2016.
Located on the iconic "main drag" of Huntington at Beach Boulevard and Pacific Coast Highway will be The Huntington Beach House. Beachgoers will enjoy elevated food offerings year-round, including mouthwatering burgers, salads, skewers, flatbreads, sandwiches and a variety of unique beverages.
Brunch on the water will feature mouthwatering pancake and sausage skewers, breakfast and acai bowls, chorizo tacos, and Fruity Pebble French Toast Sticks. These items all pair with a vast beverage menu. Firepits, sand boxes, and a 120-foot seated counter over the boardwalk will welcome diners into a "Golden State of Mind" – also the eatery's tagline.
Sahara's Sandbar, at Magnolia and Pacific Coast Highway, will be a beachside destination for pizza, beer, and shaved ice. Named after Whitney's daughter, Sahara, who grew up in the restaurants, the upbeat atmosphere will reflect a youthful Bohemian vibe. Pizza delivery will also be offered year-round, and special events can be accommodated on Sahara's Sandbar patio to hold 150 people.
State Parks will be at the center of California Fork and Spoon, with a Redwood-carved California State Bear sculpture in front of the Brookhurst and Pacific Coast Highway concession, ideal for photo moments. The concession menu features a culinary experience of California foods—El Pastor tacos, classic burgers, tri-tip sandwich, fried soft shell crab, clam chowder in a bread bowl, and high-quality beverages originating from across the state. A California mural will be created by Timree Gold reflecting the history and energy that embody the coastal region.
SandBox, located at Newland and Pacific Coast Highway, will serve as the recreational hub of PCH—a kiosk for electric bike rentals, surfboard vending machines, firewood vending machines, as well as cold beverages and snacks, and beach necessities.
SandBox beach rentals will open to the public in May 2021. The three new concession concepts will open to the public over the coming year, beginning with Huntington Beach House in Spring 2021, Sahara's Sandbar in Fall 2021, and California Fork and Spoon in early 2022.
California Department of Parks and Recreation manages 280 park units, integrating its California State Parks Healthy Food Initiative, which encourages visitors to consume native California-grown foods, organically grown and reduced fat foods. To serve this initiative, Prjkt Restaurant Group is now the exclusive caterer for both Bolsa Chica and Huntington State Beaches.
---
More Daily Doses