Greer's Daily Dose
Pizza Your Way!
02.20.13
When it comes to eating out in a hurry, it's not too often that we're wowed by value, quality, and our delicious order arrives in five minutes or less. So now that we've discovered the new Pieology at Irvine Spectrum (and also Fullerton) we're thrilled to share the good news of this fast casual pizzeria.
The concept, in the same vein as Chipotle gives you the chance to custom create your own 12-inch pizza in an assembly line for a mere $7.50, or a classic cheese pie for just $6. You can be the designer of your pizza; the only thing that's non-negotiable is the pizza dough (unless you request gluten-free).
Pieology starts with an ultra thin pizza crust, then you can go to town and pile as many toppings as you please (hint, less is more) or go for one of their seven tried and true pizzas like our favorite, the #3 with mozzarella, gorgonzola, chicken, red onion, fresh cilantro, BBQ sauce, olive oil at $7.50. Toppings range from meatballs, artichokes, ham, bacon, red onions, jalapenos and fresh basil. Your pizza will go in an open-flame oven at 675 to 800 degrees and bake in less than 2 minutes.
Owner and founder Carl Chang says that the deliciousness of the crust is a proprietary recipe and blend that's confidential. "The blend we have worked hard on, is years of fine tuning a recipe so that we can deliver a consistent taste profile that allows it to have just the right amount of chew yet flavor profile for successful thin crust taste," Chang says.
You can also order one of their tasty salads, a Caesar, or our favorite, the Classic with organic greens, chicken, gorgonzola, craisins, candied walnuts and raspberry vinaigrette.
And for something sweet, we loved the cinnamon sugar strips, made from the pizza dough. They're a new dessert obsession.
We love that Pieology is giving back to the community and also choosing a Pielogist of the Month who will be able to create his or her own pizza with a portion of their pizza creation on the menu going to their favorite charity. You can submit your story online at Pieology.

Open 11 a.m. to 9:30 p.m. Monday through Thursday; 11 a.m. to 10:30 p.m. Friday and Saturday; open 11 a.m. to 9 p.m. Sunday.
516 N State College Blvd. in Fullerton. 714.447.4064
Irvine Spectrum at 81 Fortune Drive, Suite 157 in Irvine. 949.450.1000.
Baby Splendor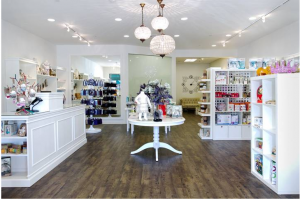 New moms and moms to be won't want to miss the grand opening celebration of Lil' Baby Sprouts, a high end baby boutique at Newport North Shopping Center tonight from 3 to 7 p.m. Stop by and enjoy refreshments, a balloon artist and free music class for the little ones, and giveaways while shopping the new spring arrivals for babies and toddlers.
Li'l Baby Sprouts carries the best in apparel for newborns to toddlers (many brands are organic and exclusive to Orange County) as well as blankets, high chairs, baby carriers and bassinettes, along with accessories such as diaper bags. The store also offers baby necessities such as products for nursing, feeding and bath time.
And, the boutique will launch classes in March for moms and moms-to-be including: Introduction to Breastfeeding, Baby Care Series, Music, Introduction to solid food, Sleep coaching and more, all taught by experts including local lactation consultants, a pediatric dietitian, certified childbirth educator, and music therapist.
There will be hourly enter-to-win giveaways including gift baskets of baby necessities, professional photography sessions and more. Shoppers will also enjoy 10% off on purchase over $25 and 15% off on purchases over $50.

Lil' Baby Sprouts is in Newport North Shopping Center at 1280 Bison Ave., off MacArthur Blvd., in Newport Beach.
949.721.1077.

---
More Daily Doses