Greer's Daily Dose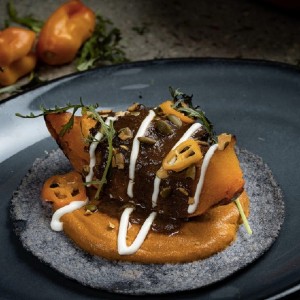 Puesto Bella Terra Opening in Huntington Beach
04.09.21
Puesto Mexican Artisan Kitchen & Bar will be opening its third Orange County location at Huntington Beach's Bella Terra Center in late April. As the largest of the O.C. locations at 7,600 square feet, Puesto Bella Terra will reflect the coastal community that it is joining by adopting elements of Huntington Beach culture in its design, with organic forms, raw materials, and earth tones of the Puesto color wheel.

"Despite being a very challenging year for restaurants, in general, we've been overwhelmed by the support that the Orange County community has shown Puesto – so much so, that is has only gotten us more energized and excited to bring the community this beautiful location in the Bella Terra Center," says Eric Adler, Tacoteur and Co-Founder of Puesto. "This will be our largest location, with extensive indoor and open-air seating and many unique features that provide a one-of-a-kind experience for guests to enjoy."

Known for its award-winning tacos wrapped in crispy melted cheese, Puesto's culinary program continues to reach new heights under the watchful eye of Executive Chef & Partner Luisteen Gonzalez, who brings the vibrant art and culture of his native Mexico City. Adding to the energy in the kitchen is Culinary Director Erik Aronow and Executive Creative R&D Chef Ian Tenzer (former Sous Chef at three Michelin-starred, Eleven Madison Park), who pays homage to the cosmopolitan palate of Mexico City.

Puesto is known for its tacos made from handmade, non-GMO, organic blue corn stone-ground tortillas, organic jidori chicken, sustainable meats, Baja and local line caught seafood, local produce and scratch salsas. Guests are encouraged to mix and match from an array of tacos, including Filet Mignon (crispy melted cheese, avocado, spicy pistachio serrano salsa), Chicken al Pastor (crispy melted cheese, hibiscus & chipotle tinga, avocado, piña habanero pico), vegetarian options such as Zucchini & Cactus (crispy melted cheese, zucchini, corn, tomato, cactus, avocado, cilantro-tomatillo salsa) and Mushroom (crispy melted cheese, garlic-braised seasonal mushrooms, stone fruit jalapeño salsa, pickled onions, hearts on fire). In addition to tacos, fresh ceviches and enchiladas highlight the menu.

Puesto's craft bar program is led by Bar & Spirits Creative Director Beau du Bois, who, prior to joining the Puesto family, gained attention for being named Bartender of the Year by Eater LA and then went on to join Napa Valley's three Michelin-starred, The Restaurant at Meadowood.

Du Bois' bar program at Puesto begins with a curated list of agave spirits (tequilas, mezcals, sotols, bacanoras & raicillas) sourced from throughout Mexico. Made from freshly squeezed juices and house made sodas, his signature cocktails include the Puesto Perfect Margarita (blue agave reposado tequila, fresh lime juice, agave), and a rotating Mercado Margarita of the Month.

Puesto's beer selection features its own Mexican Lager, Mexican Amber and Mexican Negra Lager, all brewed at the Puesto Cervecería in Mission Valley, San Diego by veteran Brewmaster, Doug Hasker. The Puesto Mexican Lager is a traditional, well-balanced and bright golden lager, with a crispy malt flavor from malted barley and hints of corn. The resulting beer has a medium bitterness from noble German hops with a clean finish. The Puesto Mexican Amber pays homage to the early days of brewing in Mexico by using Vienna malts and corn for its light, delicious body, balanced with German hops for subtle bitterness and a smooth, refreshing finish. The Puesto Mexican Negra Lager is true to its name, brewed using darker, roasted malts that are rich in flavor with a smooth, enjoyable finish.

The restaurant also offers a selection of local and Mexican microbrews on draft, as well as Valle de Guadalupe wines on tap. Frozen horchata and seasonal agua frescas are made from scratch daily. Additionally, a dollar from each frozen horchata purchase is donated to a selected charity of the month.


---
More Daily Doses