Greer's Daily Dose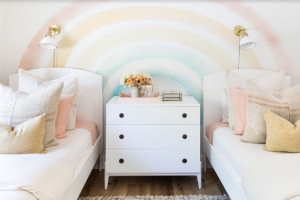 Pure Salt Introduces Little Salt, New Baby & Kids Collection
03.23.21
The beloved design studio and online shoppe, Newport Beach-based Pure Salt known for its clean, functional, family-friendly design just launched a Baby & Kids brand, aptly named Little Salt. The collection provides a fresh take on functional kids' spaces that feel like an extension of the home, while also giving kids a place to call their own.
Not only have best-friends-turned-business-partners Aly Morford & Leigh Lincoln designed a ton of baby and kids spaces for clients (like Lauren Conrad, Madison Bontempo, and others), they are also mothers with young kids, so they know first-hand what it takes to create practical, playful and beautiful kids spaces. They have brought that mindfulness and a neutral palette to Little Salt.
Little Salt is now available on the Pure Salt Shoppe. Choose from furniture, rugs, bedding and bath, lighting, wallpaper, pillows and throws, and much more.

---
More Daily Doses