Greer's Daily Dose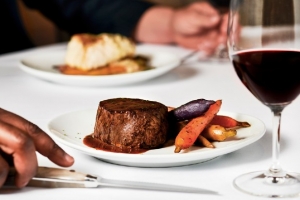 Sip Sip, Hooray! Fleming's Debuts Four-Course Hess Wine Dinner
03.24.21
Great news for wine and steak lovers! Fleming's Prime Steakhouse & Wine Bar just opened a new location in Anaheim and they've partnered with The Hess Collection to bring exceptional wines to guests both at the restaurant and from the comfort of their own homes (available now through June 17).
The Four-Course Hess Wine Dinner showcases their exquisite varietals alongside expertly paired menu items in a four-course dinner experience. For $95 per person, diners will sip their way through Hess' Sauvignon Blanc Shirtail Ranches, Chardonnay, Lion Tamer Red Blend, and Cabernet Sauvignon Allomi accompanying each course. Guests will be treated to new culinary creations like a Roasted Golden Beet Salad, Scallops a La Meuniere and Strawberry Panzanella that perfectly highlight each wine's flavors.
Also, a first for a Fleming's wine dinner—guests will now be able to choose between two extraordinary entrees: Filet Mignon with Colbert Sauce or Chilean Sea Bass with Mushroom Tarragon for their main course. Entire table must participate.
At-Home Hess Wine Dinner For Two: Fleming's fans who want to bring this luxury wine experience home can do so with curbside pickup. The $185 package for two includes four courses with one bottle of Hess Collection Chardonnay and one bottle of Hess Cabernet Sauvignon Allomi, two wine glasses, house-made chocolate truffles and tasting notes to bring all of Fleming's impeccable wine education home.
Open 4 p.m. to 10 p.m. Monday to Saturday; open 4 p.m. to 9 p.m. Sunday.
Fleming's is at 1050 W Katella Ave, Anaheim.
---
More Daily Doses