Greer's Daily Dose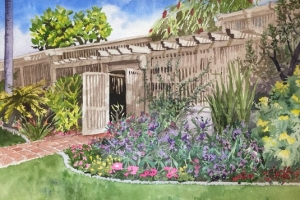 The 25th Annual Newport Beach Garden Tour
04.12.21
The 25th Annual Newport Beach Garden Tour, hosted by the Sherman Library & Gardens' Volunteer Association, will be presented virtually on Saturday, May 8th ~ the day before Mother's Day. The beloved community event is the biggest fundraiser for Sherman Library & Gardens with proceeds from this year's Tour supporting children's education programs.
A professional video production company has been retained to capture compelling footage of the six gardens on this year's Tour. "The video format was especially appealing to homeowners who are proud of their beautiful gardens, but were never keen on the public wandering through them," said Scott LaFleur, Executive Director of Sherman Library & Gardens. Stories from the homeowners will be woven throughout, where they'll share interesting tidbits and disclose the inspiration for their gardens. Ticket purchasers will receive an email with the Tour link and password, and be able to watch and re-watch the garden videos at their leisure from the comfort of their home.
A unique part of the Newport Beach Garden Tour is the "Artist in the Garden." Each year, accomplished local artists are invited to paint points of interest in one of the gardens on the Tour. Their finished paintings will be available to view, and purchase, at an in-person Summer Garden Party scheduled to take place at Sherman Gardens on Saturday, August 28, 2021.
Virtual Tour Only: $20 for Members and $30 for Non-Members
Virtual Tour & Summer Garden Party: $50 for Members and $60 for Non-Members
"In recognition of our 25th Anniversary, Orange County philanthropists Julia & George Argyros recently donated $25,000 towards our Newport Beach Garden Tour. Education and youth is a funding area that the Argyros family is passionate about, and proceeds from this year's Garden Tour supports children's education programs. We are extremely grateful for the patronage of the Argyros family," added LaFleur.
Tickets to the Newport Beach Virtual Garden Tour make the perfect Mother's Day gift! For more information, or to purchase tickets, visit thesherman.org or call 949.673.2261.
Sherman Library & Gardens is located at 2647 E. Coast Hwy., Corona del Mar.
---
More Daily Doses