Greer's Daily Dose
And The Golden Foodie Award Winners Are…
10.01.13
Celebrity guests, star chefs, and foodie fans walked the "Gold Carpet," at the second annual Golden Foodie Awards on Sunday at the Fairmont Hotel Newport Beach. Guests indulged in an array of cuisines from top restaurants, sipped on cocktails and enjoyed an entertaining Awards show hosted by comedian Frances Dilorinzo that honored the best in Orange County culinary excellence.
Top chefs, celebrity guests, and food industry icons presented awards in 26 categories.
And the 2013 Golden Foodie Award Winners are…
Best Mixologist: Dave Castillo, 320 Main
Best Happy Hour: Wildfish Seafood Grille
Best Cocktails: Hopscotch Tavern
Best Wine List: The Winery Restaurant & Wine Bar
Best Steak: The Ranch Restaurant
Best Beer List: Provisions Market
Best Burger: Mick's Karma Bar
Best Pizza: Pizzeria Ortica
Best Italian Food: Antonello's Ristorante
Best Tacos: Sol Cocina
Best Mexican Food: Matador Cantina
Best Sushi: Sushi Noguchi
Best Asian Cuisine: AnQi by Crustacean
Best American Food: The Ranch Restaurant
Best California Cuisine: SeaLegs Wine Bar
Best Vegetarian Cuisine: True Food Kitchen
Best Indian Cuisine: Clay Oven
Best French Food: Pinot Provence
Best Mediterranean: LUCCA
Superior Service: Villa Roma
Best Seafood: Slapfish
Most Delicious Dessert: Maro Wood Grill
Best Food Writer: Cathy Thomas, Cathy Thomas Cooks
Best New Restaurant: Arc Food & Libations
Golden Pastry Chef Award: Chef Rachel Klemek, Blackmarket Bakery
Golden Chef Award: Chef Alan Greeley, Golden Truffle
Golden Foodie Awards on greer's OC TV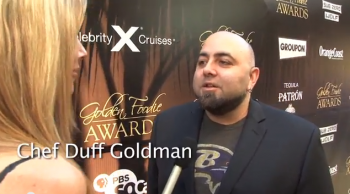 Greer Wylder steps onto the "Gold Carpet" to get an inside look of the Golden Foodie Awards and talk to the who's who of the culinary industry on Sunday, Sept. 29 at the Fairmont Hotel in Newport Beach.
You can watch here on Greer's OC TV.
---
More Daily Doses