Greer's Daily Dose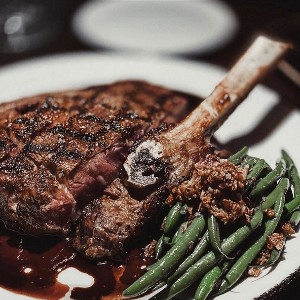 The Hideaway, A Hidden Gem in Long Beach
04.05.21
The Hideaway is a hidden gem on Anaheim Street in the Zaferia district in Long Beach for anyone who appreciates a modern-day chophouse and the perfect cocktail. And, now is a great time to experience The Hideaway, it's participating in Dine Out Long Beach through April 15 with a three-course menu for $40 per person. The Signature Drink is an Absolut Elix Orange Blossom Martini, $10.
The ultra-talented Chef Ryan Morrison has curated classic steakhouse signature dishes with hints of unexpected riffs on familiar items. The menu features starters for sharing, burgers, and sandwiches as well as beefy steaks and chops. There's even something for the non-meat eater under the Where's The Meat section. Ingredients are sourced locally including producers such as Farmlot 59, meats are sourced exclusively by Niman Ranch.
With every visit, an order of fresh Molasses Squaw bread with housemade sea salt butter is a must. Favorites from the menu include the Lamb, Quail Egg, Mustard Seed, Szechuan Oil, Scallion Pancakes; Sticky Tangerine Short Ribs, Oxtail, and Spatzle Pickled Ginger, Melted Onions, Natural jus, and the Rib Eye - 24oz (fit for two) Green Beans, and Crispy Onions; and incredible flavors from the sides menu in the Wild Mushroom & Garlic.

The Hideaway wonderfully perfected a warm and inviting setting and the wait staff will make you feel at home.
Happy Hour is available from 3 to 6 p.m. every day! Enjoy a Hideaway Burger for $10, Sticky Tangerine Ribs with scallion, sesame, and tangerine zest $10; Short Rib Grilled Cheese with aged cheddar, pickled onions, and Gusto bread $7; and Shroom Fries with Suntory Mushroom Gravy, Sesame and Scallion $7.
Open 3 - 9 p.m. Wednesday, Thursday, and Sunday; and 3 to 10 p.m. Friday to Saturday.
4137 Anaheim Street in Long Beach. 562.343.5630
Photo credit @ackhun
---
More Daily Doses