Greer's Daily Dose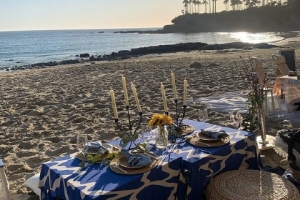 The Picnic Company OC
05.27.21
Picnic enthusiasts can leave the set-up, design, food and drinks to the pros with the Picnic Company OC. The brainchild of Julie French, a former fashion director, stylist and interior designer, the Picnic Company OC creates lasting memories in exceptional locations.
The Picnic Company OC curates elegant, professionally styled picnics guaranteed to make any occasion special: date nights, proposals, birthdays, family outings, bridal showers, and more. From the "California Classic" to "Bohemian Rhapsody" to "Six on the Beach", the Picnic Company OC offers a variety of options to satisfy any need and desire.
All picnics include complete setups to match the desired themes, from umbrellas to seating to exquisite table settings. Flowers, candles and lighting are supplied, along with custom blankets to ward away the chill in the air as the sun sets. Food and drink can be supplied through their preferred vendors, or guests can bring their own.
The Picnic Company OC operates in a variety of locations including Salt Creek Beach, Aliso Creek Beach, and parks in Orange County. Picnics are also available at private residences.
For more information on the Picnic Company OC, contact Julie French at 714.803.1523, or email picniccompanyoc@gmail.com.
---
More Daily Doses