Greer's Daily Dose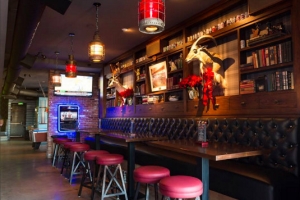 The Reimagined Stag Bar + Kitchen
01.13.16
Longtime Newport Beach locals and visitors will remember the Stag Bar at McFadden Place, established 1908, that was part bar, liquor store and eventually a Stag Chinese Casino restaurant. Legend has it the hotel rooms above the bar, also served as a brothel.
Now, the iconic location has been completely restored, expanded and reimagined as the Stag Bar + Kitchen thanks to the prolific bar and restaurant owner, Mario Marovic. His restaurant fiefdom includes Dory's Deli around the corner, Malarky's Irish Pub in Newport Beach, The District Lounge in Orange, Matador and 2J's Lounge in Fullerton, Wild Goose Tavern and most recently, Pierce Street Annex in Costa Mesa.
You can say the The Stag is better than ever, a place to enjoy favorite beers and cocktails, and delicious specialty scratch pizza, house-ground meatballs and sliders, wings and seasonal salads. You can also shoot pool, a Stag tradition for over a century.
Stag's chef Jeff Moore was classically trained under master chef Karl Kelley. Prior to the Stag, he was with Hopscotch, Chapter One, and the Montage. He also currently programs the kitchens at Wild Goose and Dory Deli.
The original 100-foot dark mahogany bar remains, as are familiar stag head taxidermy and gun rack, and old time black and white pictures of the bar from the early days. Marovic converted the rooms upstairs into luxury suites that will be available for weekly and seasonal rentals.
The bar offers leading and locally brewed craft beer, seasonal handcrafted cocktails, premium and craft wine, and more than 75 premium whiskeys, making it the largest selection of brown spirits in the city. Happy Hour runs from 8 a.m. to 7 p.m., and that's not a typo. It's the longest Happy Hour on the peninsula.
Weekly specials include Meatball Mondays, Tiki Tuesday, Whiskey Wednesday and Thursday Locals Night.
You still have time to get in for a special flight of Pappy! Old Rip Van Winkle 10yr, Van Winkle Special Reserve 12yr, Pappy Van Winkle 15yr, and the number #1 rated Bourbon Whiskey in the world, Pappy Van Winkle Family Reserve 20yr! Full flight of half ounce pours just $60! All day 1/13/15! While it lasts!
Open 365 days a year from 8 a.m. to 2 a.m.
Stag Bar + Kitchen is at 121 McFadden Place in Newport Beach. 949.673.4470 or visit stagbar.com
---
More Daily Doses