Greer's Daily Dose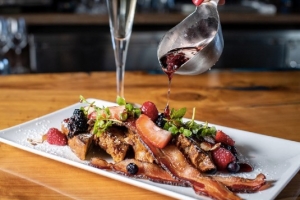 Weekend Brunch Debuts at The Winery in Tustin
04.16.21
For the first time since opening nearly 14 years ago, The Winery Restaurant & Wine Bar will introduce a new Weekend Brunch at its Tustin location. Created by Executive Chef Yvon Goetz, the Brunch menu will feature both breakfast and lunch offerings that will be available Saturday and Sunday from 11:30 a.m. to 2:30 p.m., beginning Sunday, April 11. Guests will be able to enjoy Weekend Brunch on The Winery's recently expanded patio, situated in the heart of The District in Tustin.

Chef Goetz's Weekend Brunch menu puts a Wine Country twist on brunch favorites with dishes like Lemon-Ricotta Pancakes, Crab & Egg White Frittata, and Steak & Eggs. More significant brunch options include a classic French Benedict and Chef Goetz's signature short ribs in a Zinfandel Braised Beef Short Rib Omelette. Those looking for lighter options may opt for one of four fresh salads with a choice of protein, or lifestyle-focused options like Vegan Mushroom & Lentil Ragout. The menu also highlights Chef Goetz's love for Pacific Rim flavorings and fresh line-caught fish in dishes such as Icelandic Salmon "a la Plancha" and Jumbo Maine Scallops & White Shrimp.

To truly transport guests to a relaxing Napa or Sonoma weekend getaway, The Winery offers a classic Bloody Mary and "Endless" Mimosas. In addition, The Winery's wine list offers diners a wide range of varietals from around the world. Guests can look into and even tour the restaurants' climate-controlled cellars, which holds more than 6,000 bottles.

The Winery Restaurant & Wine Bar in Tustin is located in the heart of The District at Tustin Legacy. The restaurant's new Brunch service will be offered Saturday and Sunday from 11:30 a.m. to 2:30 p.m. The Winery offers Lunch service Tuesday through Friday from 11:30 a.m. to 2:30 p.m. and Dinner service Tuesday through Sunday beginning at 4 p.m. For more information or to make reservations, call 714-258-7600 or visit thewinerytustin.com.
---
More Daily Doses