Greer's Blog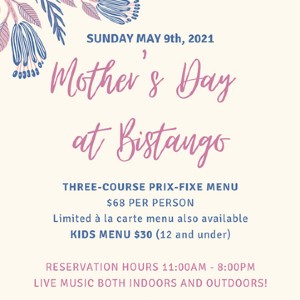 05.07.21
The award-winning Bistango restaurant in Irvine is opening especially to celebrate Mother's Day this year (usually closed Sundays) as a tribute to the importance of family and food! Come celebrate the special mother in your life with a beautiful lunch or dinner at Bistango – open especially for MOM on Sunday, May 12.
Lunch reservations available from 11 a.m. to 3 p.m.
Dinner reservations are available from 5 p.m. to 9 p.m.
Live music 6 p.m. to 10 p.m.
Limited specialty menu available + a 3-course prix-fixe (includes a glass of sparkling wine) available. A special 2-course menu for the kids will also be available.
Reserve your table online or by calling 949.752.5222.
19100 Von Karman Ave., Irvine.
---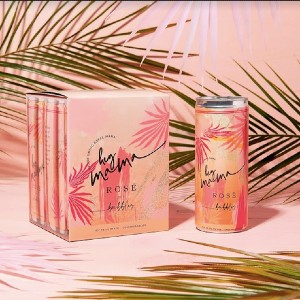 05.07.21
Know a mom who is all about rosé? Surprise them with a Hey Mama Wines Rosé Bubbles gift bundle this Mother's Day. Schedule a virtual Happy Hour too, and enjoy the time together!
The brand's rosé is low-calorie (really) and delicious. The bundles are delivered straight to doorsteps in gorgeous packaging, making recipients feel appreciated and loved, especially on their special day. Whether for your own mom or mom friends, they deserve the best and the chance to relax and feel like a grown-up. Cheers to that!
Founder Lauren Stokes was a corporate mom who sold her business to spend more time with her family. As a stay-at-home mom, she realized how challenging life can be and wanted to recognize her fellow mom friends by sending gift boxes that expressed positivity and appreciation. The response was so overwhelming which led to Lauren turning the idea into a business. Wine was something that moms all love, so when thinking of a business name, she went back to the letters she wrote to her friends that started with "Hey Mama." The rest blossomed into Hey Mama Wines
Full mid-mouth featuring a delicate finish with flavors of watermelon and strawberry
Aroma: Aromas of strawberry, honeysuckle, honeydew melon
Price: $38
Six 4-packs of your favorite canned bubbly
24 cans - 1 can = 1/3 bottle equivalent
Price: $96
A limited-edition 2018 sparkling rosè in a three-bottle option is the perfect way to celebrate moms!
A 2019 San Francisco Gold Winner, featuring strong strawberry notes with a hint of cream and spice with a dry bubbly finish
Price: $110
---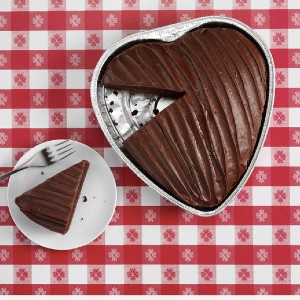 05.06.21
Considering venturing out on Mother's Day? Here's a round-up of dining options on Sunday, May 9 in OC and LA,.
ORANGE COUNTY
Las Brisas | Laguna Beach
Las Brisas, the iconic cliffside restaurant with scaping views of the Laguna Beach coastline, will offer an exquisite three-course Mother's Day brunch for $72 per person from 8 a.m.- 3 p.m. and their al la carte menu for dinner. Seating is available on the expansive ocean-view patios, or in their dining room which also offers views of the coastline. Reservations can be made online or by calling the restaurant. There will also be a kid's menu available for those 12 and under. Menu items include dishes such as the Smoked Salmon Tostada with crema, capers, and pickled onions; Spicy Tuna Tostada with avocado mousse and Fresno chile; Steak and Lobster Enchiladas with guajillo sauce, tomatillo sauce, rice, and beans; French Toast with berries, coco nibs, macadamia nuts, and citrus butter; and Prime Rib with mole potato purée and charred scallions among many other dishes. Please see here for the full brunch menu.
Portillo's | Buena Park
Mother's Day just got a little sweeter! Portillo's is bringing back its Heart-Shaped Chocolate and Lemon Cakes ($15.99) for a limited-time only. The iconic Chicago brand is making it easier than ever to show mom how much you care with cakes available for delivery or in-store pick-up from May 6-9. As part of Portillo's partnership with No Kid Hungry, Portillo's will be donating $5 from each cake purchased – up to $5,000 – to the organization. This charitable contribution will benefit No Kid Hungry's mission to end child hunger in America by ensuring that all children get the healthy food they need every day to thrive. Guests are encouraged to pre-order by calling 866.YUM.BEEF, ordering online at www.portillos.com, or visiting or calling their nearest Portillo's restaurant. Portillo's Heart-Shaped Chocolate Cakes are also available for nationwide shipping through Portillo's online store. Orders include one single-layer chocolate cake, spatula, and do-it-yourself icing for $43.99.
El Torito Grill | Brea
The upscale Mexican-inspired spinoff from El Torito offers its all-you-can-eat brunch for Mother's Day on Sunday, May 9 from 9 a.m.-2 p.m. Guests can enjoy made-to-order specialties from stations throughout the restaurant, including a Fajita Station, Salad Station, Omelettes, Dessert Station, and more. Brunch is $30 per adult and $11.50 per child 12 and under. Diners can opt for bottomless mimosas for an additional $6. The full menu can be found here; reservations can be made online.
Solita Tacos | Valencia & Huntington Beach
The laid-back Baja-inspired restaurant invites guests to celebrate Mother's Day with a weekend brunch spread of Machaca & Eggs, Chilaquiles, Brunch Potato Nachos, and Berry Cinnamon Bread Pudding. Toast to mom with the Rainbow Mimosa Bucket, with up to 4 fruit choices pre-poured in your champagne glasses & an iced bottle of sparkling wine; Choice of watermelon, guava, mango, strawberry, pomegranate, or pineapple. Weekend brunch is offered on Saturday, May 8 and Sunday, May 9 from 9 a.m.-2 p.m. Reservations can be made online here.
LOS ANGELES & ORANGE COUNTY
Urban Plates | locations throughout Southern California
The farm to table kitchen providing made-from-scratch, wholesome meals at affordable prices.
Urban Plates makes wholesome, clean, craveable food accessible to all. Now more than ever, how you fuel your body matters. Urban plates offers spacious patios open for dine-in, in addition to takeout, curbside, and delivery. Guests can enjoy a variety of Plates, Salads, Sandwiches, Bowls, and more, such as the Grilled Grass Fed Steak served with two scratch-made sides; While Ahi Tuna; Grilled Sustainable Salmon; Grilled Cage Free Chicken Sandwich; and Classic Crispy Tender Sandwich among many other menu items. All desserts are made from-scratch in-house by Urban Plates' pastry chefs. Options include Banana Cream Pie, Hummingbird Cake, the famed Mango Tart, and many other options.
SOL Mexican Cocina | Playa Vista, Newport Beach & Irvine
Treat mom to a coastal Mexican-inspired brunch at one of SOL's three Southern California locations. Weekend brunch dishes include Ultimate Breakfast Torta, Crab & Shrimp Benedicto, La Vida Quinoa Bowl, and more. Wash it all down with classic brunch cocktails like SOL's Bloody Mary, Michelada, and Casamigos Paloma. Brunch is offered on Saturday, May 8 and Sunday, May 9 from 10 a.m.-2 p.m. Reservations can be made online here.
Black Angus Steakhouse | Burbank, Fountain Valley, Lakewood, Lancaster, Montclair, Northridge, Ontario, San Bernardino, Temecula, Torrance, Ventura, Whittier, Buena Park, Fountain Valley, Santa Ana, San Bernardino, Montclair, Ontario
Black Angus Steakhouse has been mastering their craft since 1964, specializing in sharing comforting, wholesome meals that everyone can enjoy. For Mother's Day, Black Angus is opening all locations starting at 11 a.m. and offering a special menu with limited-time specials such as the Prime Rib and Lobster Tail including a half pound of slow roasted prime rib paired with a choice of one ($38.99) or two ($44.99) cold-water Atlantic lobster tails. Guests will also find fan favorites such as ribeye steaks, Classic Sidekicks, and signature cocktails on the holiday menu. Reservations for dine-in are encouraged and can be made online or by calling ahead. For those celebrating at home, the Prime Rib Family Meal To-Go ($99) is the perfect option for four people and comes with four 8 oz. prime ribs, horseradish, au jus, home-style mashed potatoes or 5-grain rice pilaf, broccoli with garlic butter, eight chocolate chip cookies, and molasses bread. Black Angus' limited menu will also expand to Dia De Las Madres on May 10 at the Lakewood and Torrance locations.
LOS ANGELES
L'Antica Pizzeria da Michele | Los Angeles
Transport to Italy this Mother's day at Los Angeles' quintessential garden patio restaurant, L'Antica Pizzeria da Michele, named one of the best outdoor patios in the city. The restaurant will serve a menu of delicious Italian specialties including Carpaccio Di Pesce, with scallops, tuna, and swordfish; Eggplant Parmigiana; Ravioli Di Ricotta, handmade Ravioli Filled with ricotta cheese, cherry tomato, and topped with a fresh basil sauce; and Pollo Alla Caccitora, a slow Cooked Jidori Chicken served with mashed potato. In addition, da Michele's full menu will be available. Reservations can be made via OpenTable or by calling the restaurant directly.
Rappahannock Oyster Bar | Downtown Los Angeles, ROW DTLA
For Mother's Day brunch (11:30 am-3:30 pm), the East Coast seafood restaurant at ROW DTLA will offer a mimosa, three raw oysters, and choice of Lobster Benedict or Lobster Roll for $35 per person. Rappahannock will also serve a mini Seafood Platter (2 oysters, 2 bay scallops, and 2 shrimp cocktails) plus a bottle of Cava for $55, available all day (11:30 am-8 pm).
Pikunico | Downtown Los Angeles, ROW DTLA
Pikunico at ROW DTLA will celebrate Mother's Day with a special plant pop-up, offering Bozu bonsai plants ($38-$50) for guests to purchase as gift for Mom with all orders throughout Mother's Day weekend (May 8-9). Chef Kuniko Yagi chose these specifically for Mother's Day because she believes that plants in the soil with roots will remind Mom of how much her family loves her long after this special day is over.
Additionally, with all Family Basket ($32) orders on May 8-9 (11 a.m. to 8 p.m.), Pikunico will gift one free Miso de Leche cookie to all celebrating mothers. Family Baskets serve four people and include Pikunico Chicken Tenders with choice of large coleslaw, fingerling potatoes & two ginger onigiris.
Baltaire | Brentwood
Baltaire, the contemporary steakhouse led by Chef Travis Strickland, celebrates Mother's Day with an a la carte brunch menu on Sunday, May 9 from 10 am-4 pm. Baltaire is not currently offering regular weekend brunch service, so this is a unique opportunity to enjoy dishes like Steak & Eggs, French Toast, Eggs Benedict, and mimosas.
Theía | Los Angeles
Theía, a vibrant, lively Greek-inspired restaurant in the heart of West Hollywood, will offer a special three-course, prix fixe Mother's Day brunch for $50 from 10:30 a.m. to 3 p.m., with the regular dinner menu available after 3 p.m. With the option of both indoor and outdoor dining, guests can book their reservations online or call ahead. Theía's first course includes Salmon Beet Tartare, Jumbo Lump Crab with Strawberry or Beet Salad with a Poached Egg. For the second course, guests can choose either Veal Milanese, Brunch Ratatouille or Egg in a Basket. The dessert course includes the choice of Coconut Rose Strawberry Custard, Pistachio Baklava or Chocolate Cake. Theía will also offer a mimosa bar cart in addition to a special Mother's Day cocktail, The Amelia ($16)—named in honor of Theía's chef's mother—and is made with tequila, lime juice, agave syrup, rosewater, fresh grapefruit juice, and garnished with a grapefruit wheel and rosemary. Additionally, anyone celebrating Mother's Day will receive a complimentary sweet treat baked in-house, paired with San Pellegrino's new line of Essenza Coffee Flavors.
---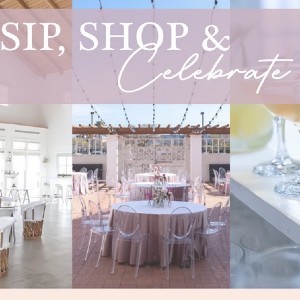 05.06.21
Celebrate mom with Facial Lounge at a Mother's Day event Saturday, May 8 from 11:30 to 2:30 p.m. at Gray Matter Museum of Art in Newport Beach. Enjoy Bottomless mimosas, delicious appetizers, and gift bags prepared by culinary artists such as Eric Vogel, Ray Ortiz and Pastry Chef Jody Swisshelm. Music curated by Joey C.
Tickets cost $120. More information and tickets can be purchased here.
The Gray Matter Museum of Art is in Newport Beach.
---
More Greer