Greer's Blog
12.07.09
This cool holiday light show is unlike anything you've seen in Orange County before—guaranteed. Santa Ana's progressive group, Downtown Incorporated, is projecting a 3-D high-tech holiday image show for you on The Spurgeon Building. Check it out here Greer's OC TV, but more importantly go see it Thursdays-Saturdays, from 7-9 p.m., at the corner of Fourth Street and Broadway in downtown Santa Ana.
---
12.05.09
Don't miss the 31st Annual Corona del Mar Christmas Walk and Festival Sunday 11 a.m. to 4 p.m. It's one of Corona del Mar's oldest special events with holiday festivities for family, and friends. Thousands of people are expected to attend and enjoy entertainment, food, games and prizes. Local bands will be performing along the walk, special sales in many of the shops, and possibly a Santa sighting. Pinch Me! Band is performing a free concert at the hub of the event – Bandera Restaurant at Marguerite Avenue and Pacific Coast Highway. The band will be featuring great music ranging from songs of the Beatles to current alternative hits of today.
---
12.03.09
The First Annual World of Wonderment: An Evening Celebrating the Magic of Childhood Friday at 6 p.m. at the Disney's Grand Californian Hotel will help raise awareness and to help prevent child sexual abuse. The event will pay tribute to two amazing women, Officers Ally Jacobs and Lisa Campbell of UC Berkeley Police, whose significant work helped to end the 20-year captivity of Jaycee Dugard. Event only $125; VIP at $200. For more details about the evening which includes a VIP reception/meet and greet with Royal Crown Revue, exclusive wine tasting; cocktails and silent auction, entertainment and more, please visit the website, here.
Disney's Grand Californian Hotel at Sequoia Ballroom at 1600 S. Disneyland Dr. in Anaheim. 866.825.8251
---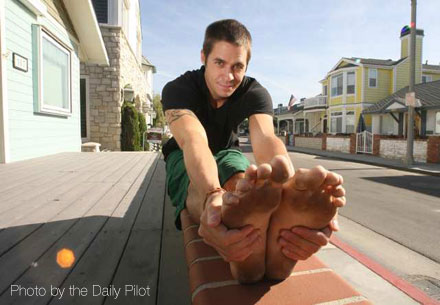 12.02.09
As if running 26.2 miles is not difficult enough, think about running with no shoes! That's what my friend, Casey Cochran, founder of the Green Guide Network is doing this Sunday. He's running barefoot in the Santa Barbara Marathon to raise money for kids without shoes. He's partnered with TOMS Shoes, and you can still support his fundraising efforts. Just enter "Casey Cochran" in the "In Honor of Field" on the Friends of TOMS donation page, otherwise TOMS won't know where the donation came from. Here's his blog, where you can find out more and how to support his barefoot marathon.
---
More Greer