Greer's Blog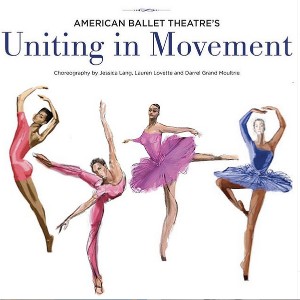 04.20.21
Segerstrom Center for the Arts and American Ballet Theatre proudly announces UNITING IN MOVEMENT, an exciting project bringing 18 dancers together for safe collaboration and exhilarating performance. ABT, America's National Ballet Company®, has been in residence at the Center since March 22, rehearsing this new program that will receive its world premiere before a live audience on Sunday, April 25 in Segerstrom Hall, followed by streaming on demand from May 12 – 26.
Uniting in Movement is comprised of three works by contemporary choreographers, each with very personal and unique visions for the future of ballet: Jessica Lang, Lauren Lovette, and Darrell Grand Moultrie. The program will also pay homage to ABT's classical heritage with Grand Pas Classique, a virtuosic showcase of ballet technique. The performances will be the first in Segerstrom Hall since the shutdown of all live theater in March 2020 due to the COVID-19 pandemic, just one week after the world premiere of ABT's new production of Alexei Ratmansky's Of Love and Rage.
The choreographs, dancers and ABT artistic staff have been living and rehearsing ina quarantined 'bubble,' isolating themselves at the Avenue of the Arts Costa Mesa A Tribute Portfolio Hotel across the street from the Center, venturing out only to rehearse in the Center studios and, ultimately, perform in Segerstrom Hall. All rehearsal and performance activity is adhering to strict medical and safety guidelines, with an initial quarantine and testing period prior to the start of ABT's residency.
Complete performances will be recorded on Friday and Saturday, April 23 and 24, and streamed on demand May 12 – 26. Tickets are $25 per household. ABT will give a final performance of Uniting in Movement before a live audience on Sunday, April 25 at 1:30 pm. Seating will be limited and available in two-person, safely distanced pods. Ticket prices start at $50. Complete information and tickets for on-demand access and the live performance are available now online at SCFTA.org or by calling the box office at (714) 556-2787 weekdays between 10 a.m. and 2 p.m.
---
More Greer