Greer's Blog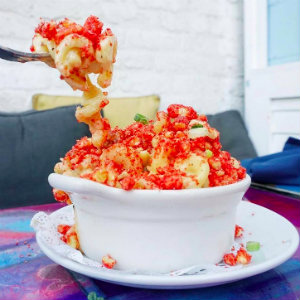 03.27.17
By Asma Mohammed
The Attic on Broadway in Long Beach specializes in comfort food! Fried chicken and waffles is one of their specialties and they fry it to perfection with homemade gravy and a fried egg. The syrup and gravy go together beautifully with the fried egg to create a new and amazingly strong flavor that's salty and sweet.
But what the Attic is famous for is their mac and cheetos. It's creamy mac and cheese with your choice of bacon, short rib, mushrooms, or soy chorizo and of course Flaming Hot Cheetos on top. The crunchy cheetos and the creamy blend of cheeses makes for a great experience that you cannot finish all in one sitting, especially if you get an appetizer of Cajun fries which are probably the best fries I've ever had, they come with an amazing chipotle-honey dipping sauce that is addicting. Overall, amazing comfort food and definitely worth visiting over and over again.
3441 East Broadway in Long Beach. 562.433.0153.
---
More Greer