Greer's Blog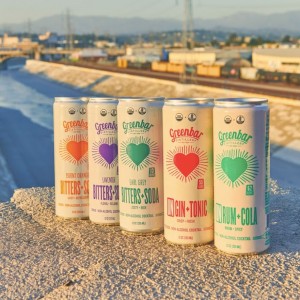 05.25.21
Canned cocktails are the official drink of summer and for those off White Claw who want something fresh & unique, made by craft distillers in the heart of Los Angeles - Greenbar Distillery's RTDs are the perfect fit!
Greenbar Distillery, Los Angeles' first distillery since Prohibition which boasts a robust line of RTDs including Highballs, Italian Spritz and non-alcoholic Bitters + Soda that are craft-made using Greenbar's 100% USDA-certified organic spirits and mixers. These RTDs are so good that the LA Arts District-based distillery implemented an in-house canning line to be able to keep up with increased demand after seeing 384% sales growth in their RTD products in a year.
Additionally, because being able to enjoy nature's wonders also means taking care and respecting Earth, Greenbar Distillery has built their business on sustainable practices that help erase the distillery's carbon footprint while also helping to rebuild rainforests in South America. Greenbar Distillery, in partnership with Sustainable Harvest International, plants a tree for every case of canned products and bottle of spirits sold, and has planted over 889,536 trees since 2008!
To find out where you can buy their canned cocktail's visit greenbardistillery.com
---
More Greer