Greer's Blog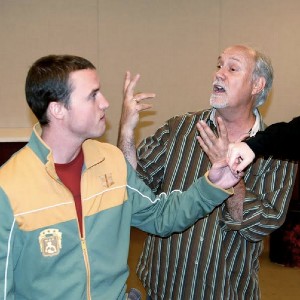 04.05.21
So you think you can act? Segerstrom Center for the Arts in association with South Coast Repertory, is introducing a new series: Improv on the Plaza. These improv workshops will help the aspiring actors among us or simply hone lapsed social skills in preparation for your long-awaited re-entry into public situations. They will be taught by Greg Atkins, an SCR Theatre Conservatory teaching artist.
Classes will be on Wednesdays April 14, 21 and 28 and May 5 starting at 6:30 p.m. on the Julianne and George Argyros Plaza. The price per class is just $10, but space is limited to 19 people in order to maintain safe social distancing.
Improv isn't just for actors: whether you're going on a job interview, speaking in public, meeting new people, or directing a business meeting, improvisation skills are an important part of everyday life. These fast-paced workshops will focus on acting, characterization, creativity, and spontaneity through improvised scenes and theatre games. There will be an emphasis on thinking faster, making stronger choices, and increasing confidence in a FUN and welcoming outdoor environment.
Improv on the Plaza classes are for adult participants (ages 18+) and no prior experience with improv is necessary. Participants are encouraged to bring a folding chair or a cushion.
Greg Atkins (Improv Teaching Artist) is an award-winning writer/director of theater and special events. He has worked with for The Walt Disney Company, the Olympics, Blizzard Entertainment, Elton John AIDS Foundation, SenovvA and other major entertainment companies. As an executive coach, he prepares Fortune 500 executives to speak before live audiences and on video. As the president of InterActors, he travels with an international team of improv actors to exotic locals such as Prague, Singapore, Rome, New Delhi and Irvine. The author of the book, "IMPROV! A Handbook for the Actor," He was a creative consultant on the hit ABC primetime show, Whose Line is it Anyway?, and has published multiple plays. His most current play is 9/10th, an evening of 10-minute plays. Atkins began his theatrical career at South Coast Repertory as an actor/writer/director. He is proud to be an SCR Theatre Conservatory teaching artist. He has been teaching at SCR for more than 30 years and is a cherished and popular member of the Conservatory faculty.
IMPROV ON THE ARGYROS PLAZA April 14, 21, 28 & May 5
All classes begin at 6:30 p.m.
Tickets: $10 per space. Online at SCFTA.org/events/calendar
Open 10 a.m. – 2 p.m. Monday-Friday. 714.556.2787
---
More Greer