Greer's Blog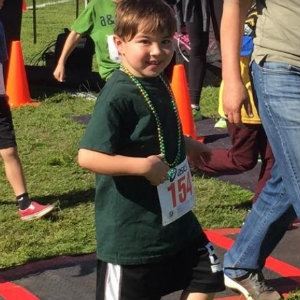 05.01.17
The OC Marathon brings 24,500 runners, walkers, wheelchair and hand crank competitors crossing the finish line next weekend. Everyone is running for different reasons, whether it be fitness goals, or for charity. We have three inspirational stories from local runners: an 8 year-old student who was newly diagnosed with Duchenne's Muscular Dystrophy, a first-time ½ Marathon competitor inspired to run for UNICEF, and an 89 year-old man who has never run a race in his life.
1. Youngest Inspirational Runner Henry Wat
An 8-year-old 3rd grader at Woodbury Elementary in Irvine, Henry Wat loves hanging with his big brothers, playing Minecraft and throwing the ball for his best friend Nalu, the family Cockapoo. Since kindergarten, Henry has walked the half mile to school and back every day, but has always held tightly to his mother's hand. He has had trouble keeping his balance, has been prone to falling, and hasn't had the strength to compete in sports like his brothers and his friends. No one could figure out why. Then last July, doctors discovered Henry was suffering from a rare form of Duchenne's Muscular Dystrophy. The prognosis was a blow to his mom and dad.
Shocked and frightened, Henry's parents agreed to put him on a steroid medication just a few months ago that seems to have given their son a new-found strength and confidence. Best yet: He isn't falling down as much and walks to school without clutching his mom's hand. "I can do it myself now," he says, albeit at his own slower pace. Henry's parents confide that his long-term future is uncertain for such a serious disability -- but his immediate future is not: In just a few weeks, Henry will, for the first time, join his classmates and some 10,000 other Orange County children in the Kids Run the OC event that is part of the Orange County Marathon weekend. "He will be so proud of himself to finish that race," says his mother, Kristin Wat, who will be there cheering him on alongside his father, Gary and his two teenage brothers, Calvin and Miles. "But I think seeing him cross that finish line will be an even bigger moment for us."

2. First-Time Competitor Jade Lam, UCI student
When Irvine resident Jade Lam was a little girl, her big brother was visiting family in Taiwan when one of that country's most devastating earthquakes struck. For several days they were unable to get news about him. When he was finally discovered to be safe and in the care of others, Jade felt something click inside her. She decided that she would make it a point throughout her life to help others in need whenever possible. A student of International Business at UCI, Jade was moved by the devastation she saw in Haiti following Hurricane Matthew. She decided to join an advocacy group at UCI and signed up to run the half at the OC Marathon to benefit UNICEF. Jade had only one problem: She had never run a race before. An avid swimmer, water polo player and surfer, Jade grew up watching her mom run marathons but it was never her sport. She's been training for the past few months and has even experienced "runners high" which she finds motivating, but she says she has a ways to go still. What her mom think of her entering a half marathon as a first-timer? "She says she doesn't think I can finish," Jade admits with a laugh. "She says I'm not a runner. But I'm going to prove her wrong!"
1. How many days a week are you training?
I try to run everyday at least 3 miles on the weekdays. On the weekends are when I do my longer runs which range from 7- 10 miles.

2. Do you have any tips for first-time runners?
Running seems like a hard thing to do but really it's all about having time to think about anything. Advice would probably be take your time and don't push too hard because it is your first time.

3. What is your go-to running outfit?
Running shorts and a t-shirt

4. Are you a morning, midday or evening runner?
Evening runner when it's not too hot or too cold!

5. Do you have a time goal?
Not really -- just trying to finish and take it easy because it is my first race.

6. Do you have a favorite place to run?
Mostly been running around the park near by. It has a very nice lake and its pretty in the afternoon.
7. How do you plan on celebrating after the race?
Sleep is probably what I'll be doing after I finish the race. That will be the best way to celebrate. Just rest.
8. Do you see yourself ever running a full marathon?
Maybe, in the next year or so. Will probably need to train a lot more for that though.
9. How can people support your fundraising efforts?
We have a Crowdrise page under UNICEF at UCI. It would be great to donate 10 dollars. Doesn't have to be a lot of money. Or just spreading the word out. This cause goes to all the children who are less fortunate than others.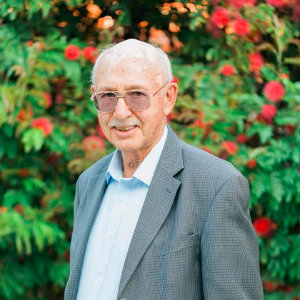 Senior Competing in the 5K. Norval Hadley
1.Where did you grow up and where do you live now?
I grew up on a farm in Albany, Oregon. My dad was a prune farmer. I currently live at Rowntree Gardens, a senior living community in Stanton. It's a great place.

2. May we ask your age?
89 years old

3. How did you get involved in the OC Marathon?
One of my colleagues at Rowntree, Jeff Davis, invited me to participate in the 5k. I think of myself as a pretty healthy and able guy, so I thought I'd take advantage of that and I signed up. I walked the golf course the other day, with hills and everything, just to make sure I could do it. I wanted to check to see if my blood sugar would be o.k. No problem.

4. Is this your first race?
Yes, it's my first race, but I'm an avid golfer. I have won the Southern California Senior Olympics Golf event in my age group for the past 7 years.

5. Do you have running/walking partners?
I'll be participating in the 5k with a number of the community members at Rowntree Gardens. We've turned this into a fun event with staff and community members taking part together.

6. Where do you like to run/walk?
Like I said, I'm more of a golfer than a runner. I have some regular golfing buddies like Jim Rush, an ex police officer, and I have some military vets, all between 75-80 years old, that I like to play with.They get us onto the navy course.

7. What advice would you give someone who might be starting to run/walk later in life?
Just get out and do some kind of exercise, whether it be running, walking, golf, whatever. It's important to staying vital and healthy.

8. What do you think the benefits of running are for someone your age?
For me it keeps my legs, lungs, and heart healthy. I feel pretty good most of the time, and I think that's the reason.

9. Do you see yourself running more races?
We'll have to see about running races, let's see how this one goes. But I can tell you that I plan to play golf regularly as long as I'm physically able, and I hope that's for a long time.

10. Are you running for a particular cause or charity?
I'm running to support Marketplace Ministries Worldwide, an organization that starts up small business enterprises in regions of great scarcity, and through vocational training and empowerment, enables people to provide for their families with the personal dignity that a good job can provide. It's an innovative way to share God's love and make the world a better place.

11. How can others support your efforts?
Sponsor an OC marathon runner on the MMW team. Go to.marketministries.com/ocmarathon and follow the links.
---
More Greer