Greer's Blog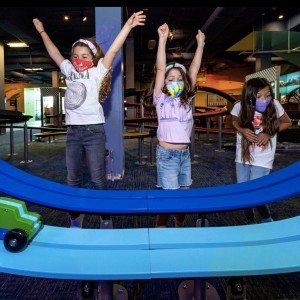 05.24.21
The Discovery Cube Orange County + Los Angeles will officially reopen their doors once again to science lovers young and old starting, Friday, May 28.
After more than a year closed, museum visitors are invited to come to REDISCOVER the wonders of science with all new STEM exhibits, enhanced science adventures and interactive exploration every Thursday through Sunday, 10 a.m. - 5 p.m.
During the closure, both Discovery Cube campuses underwent $10M+ in interior and exterior renovations including the installation of "safe-science" HVAC filtrations units throughout each campus and the implementation of COVID-safe guidelines and protocols to keep visitors safe and healthy.
Likewise, the museum invested heavily in several new STEM exhibits, enriched activities and digital adventures while reimagining a few fan-favorites and STEM activities. The much-needed improvements to both campuses resulted in a sizable investment in the future scientific education.
Orange County + Los Angeles campus renovation details include:
Addition of 10+ exhibits including the ALL-NEW Physics Lab, Ice Lab + Science of Hockey + Organics Waste Lab (Orange County-only) Chevron-sponsored 'Festivals of STEM' exhibit with five STEM-themed areas and 10+ hands-on experiences (Los Angeles-only) CDC-recommended MERV-13 air filtration system
Friday, May 28; 10 a.m. – 5 p.m. PT
Orange County: 2500 N Main Street, Santa Ana.
Los Angeles: 1800 Foothill Blvd, Sylmar.
---
More Greer