Greer's Blog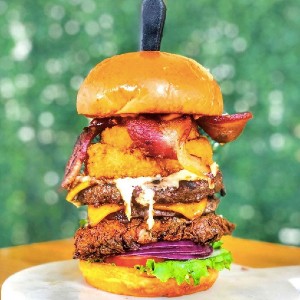 05.18.21
Slater's 50/50 in Huntington Beach is celebrating National Burger Month this May by letting guests slaterize and customize their own burger for a chance to win a $100 gift card!
While customizing each burger is a staple on every Slater's 50/50 menu, for a limited time only, guests can order their designed burger, give it a name and description and post a photo on Instagram or Facebook using hashtag #slaters5050burgermonth for a chance to be one of the lucky winners!
Select winners will also have a chance to have their burger creation added to the regular menu. The concept isn't stopping there though; Slater's 50/50 will also offer guests the option to commemorate their burger by personalizing it on the Design-It t-shirt to share their creation with the world. The most adventurous, unique and over-the-top burgers may win and Slater's 50/50 will randomly select 1 winner each week in May for the lucky prize! Slater's Design-It menu comes with over 70 different options meaning there are millions of ways to create a completely unique and slaterzied burger to each individual. Options for the build your own burger may vary by location.
Open 11:30 a.m. to 8:30 p.m. Sunday to Thursday; 11:30 a.m. to 9:30 p.m.
17071 Beach Blvd, Huntington Beach.
---
More Greer