Greer's Blog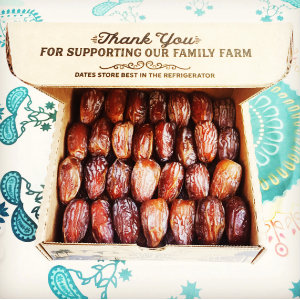 10.16.17
Hands down the best dates you'll ever taste are now available at the Date Shop in Newport Beach. The dates come fresh the Rancho Meladuco Date Farm in the Coachella Valley. Founder, Joan Smith, (a mother of three, home cook, and backyard gardener) started farming dates on the ranch using traditional farming and harvesting methods, and packs each box by hand.
A box of Medjool dates makes a great gift and lasts a long time. It's best to store them in your fridge or freezer. They're a great source of energy, sugar, and fiber. Sweeten recipes with dates such as smoothies, breakfasts, snacks, appetizers, salads, and desserts.
Some health specialists say eating one date per day is essential for a balanced and healthy diet. And, Muslims often break their fast by eating dates to help avoid overeating once the fast is over. Feelings of hunger are pacified, once the body absorbs the high nutritional value of the dates.
You can also shop at online for Rancho Meladuco dates at ranchomeladuco.com.
Open Monday, Wednesday and Friday from 9:30 to 11:30 a.m. and by appointment.
The Date Shop retail shop and ranch headquarters for Rancho Meladuco Date Farm is at 2700 W. Coast Hwy, Ste. 222 in Newport Beach. 888.635.2382.
---
More Greer