Greer's Blog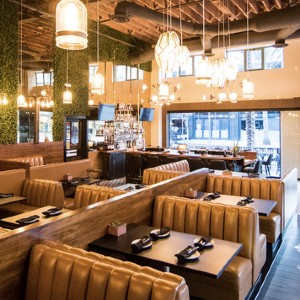 04.06.21
Downtown Long Beach diners are in for a special treat when they discover the family-owned Carvery on Pine Avenue. This is the kind of place where you can always enjoy delicious Prime Rib, you don't have to wait for a special occasion. The Carvery's is roasted fresh daily and available by 4 p.m. for early diners. The Prime Rib is slow-roasted and lightly smoked in-house, hand-sliced, approximately 16oz. Served with au jus, creamy horseradish sauce, and sour cream mashed potatoes.
The Carvery offers high quality craft food such as starters, salads, pub specialties, fish, poultry and pork, steaks, and dessert. And, don't forget hand-crafted cocktails. They specialize in smoked meats as well as delicious vegetarian choices. They also offer breakfast from 10 a.m. to 2 p.m. Saturday & Sunday And, enjoy Happy Hour from 3 p.m. to 6:30 p.m. Monday through Friday, with $2 off all appetizers, draft beer, spirits, wine, and cocktails.
The ambiance is warm and welcoming and its extended outdoor patio is a great place to enjoy the Carvery's cuisine.
During Dine Out Long Beach's Restaurant & Cocktail Week through April 15, you can take advantage of the Carvery's special shared menu with cocktail paring for $100 for two guests.
Choose one Starter:
Spinach & Artichoke Dip
Avocado & Grilled Street Corn
Brussels Sprouts with Tahini
The second Course -- Choose one to Split
Southwest Caesar Salad
Strawberry and Spinach Salad
Chopped Wedge Salad
Main Course - Choose Two
Slow Roasted Prime Rib 12 oz. Cut - Pair with Irish Remedy or Dauo Cabernet Sauvignon
Pan-Seared Halibut with Forbidden Rice and Asparagus - Pair with Davis Bynum Sauvignon Blanc or The Wilkommen
Big Juicy Pork Chop - Pair with Davis Bynum Pinot Noir or the Pessimist or Elyx Mule
Open Wednesday, Thursday and Sunday 5 to 10 p.m.; 5 p.m. to 11 p.m. Friday and Saturday.
201 Pine Avenue in Long Beach. 562.317.5237.
---
More Greer