Greer's Girls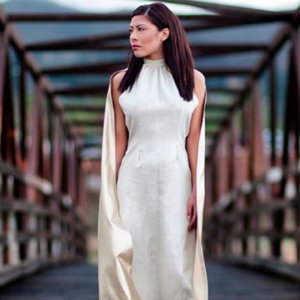 03.24.16
By Christianna Barrack
At OC Fashion Week last week, each emerging designer of "Fashioned for the Future" was given the opportunity to showcase three to four creations from their collections. Student designer Vanessa Lozada at the Art Institute of Orange County debuted her looks and was one of the contestants to win a full showcase premiere this September! Vanessa Lozada gives advice to aspiring designers and shares her feelings on being a part of OC Fashion Week with Greer's Girl, Christianna Barrack.
1. How did it feel to have your collection shown at OC Fashion Week?
It was a wonderful surprise when my instructor Sonin Lee gave me the news. I was excited but a bit nervous because it's my first time participating at OC Fashion Week. Watching the audience applauding for my work was a great feeling. Having the support of my family and friends at the show gave me confidence.

2. Who are your style icons?
Carolina Herrera has such and effortless feminine style that I truly admire and Alexander Mcqueen has that bold, avant garde surreal style that inspires.

3. What are your favorite fabrics to work with?
I mainly work with solid or textured fabrics for evening wear. I always like adding something else other that fabric to my designs implementing what originally inspired me.

4. What are your biggest challenges as a designer?
Putting myself out there. Networking. I am not the most social person not because I don't like people but because it hard to express or explain myself with words. People are always amazed of my work once it's done but I fear of not being able to convince a client, boss, or investor to believe in my ideas through a presentation before the design/garment is made.

5. Words of advice for an aspiring designer?
You are not always going to win an award or be recognize for your work but what you will always win is experience. Experience brings guidance for the next step.
Photo credit MYOMedia.co
---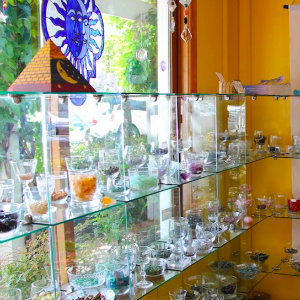 12.07.15
By Mimi Ngo
Visions and Dreams Gifts of Empowerment in Costa Mesa is more than a small gift shop; it's also a social center to connect and build friendships for the body and soul.
Visions and Dreams sells unique gifts such as candles, tarot and oracle cards, gems, crystal jewelry and other metaphysical items to fit your needs. You will also find sage bundles, Himalayan sea salts, CBD supplements, oils and other healing products such as Tiger Balm.
There's a new and used book section where customers can bring in books for store credit.
If you're in need of some guidance, there are plenty of intuitive readers available for in person readings or phone readings each day of the week. Readers range from tarot cards, mediums, channeling and more.
For connecting and building fellowship, the store also has a "NOW Center" which has vaulted ceilings and wood floors to hold yoga sessions, seminars, and workshops. The center is also available for rental for private events.
Visions and Dreams also offers Shakti Grooves Yoga Dance twice a week which combines breathing, stretching and dancing in a friendly no-judgment zone. Deeksha blessings are also done every Wednesday night.
For more information and daily events, visit visionsanddreamsonline
2482 Newport Blvd. Costa Mesa, 949.650.7419.
---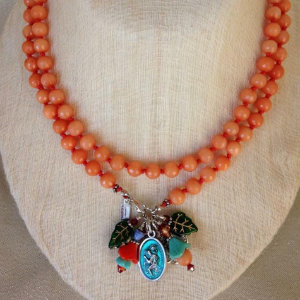 11.18.15
By Mimi Ngo
Cynthia Morehouse is an Orange County jewelry designer who has passionately created jewelry for 15 years.
Her line, Cynthia Morehouse Jewelry is known for using bright and happy colors inspired by her grandmother's birthplace of Guanajuato, Mexico, a vibrant Spanish colonial city. Cynthia Morehouse Jewelry is also known for signature use of patron saint medals that nod to her Mexican-Catholic heritage as well as other spiritual elements such as Buddha.
Morehouse combines her love for vintage jewelry and molds them into a contemporary aesthetic within her pieces. With strong creative influence from her heritage, Morehouse creates jewelry that speaks to all people and cultures.
You can find the latest news and designs on her Facebook page.
The next event for Cynthia Morehouse Jewelry will be on Friday, December 4 from 10 a.m. to 5 p.m. at St Joachim Holiday Boutique.
1964 Orange Ave. in Costa Mesa.
---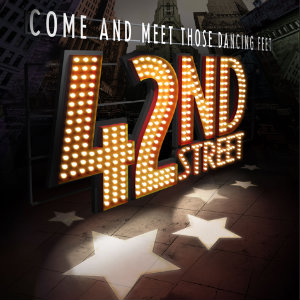 11.17.15
Greer's Girl Kelley Moody taps along with dancers from "42nd Street" for this episode of From the Dressing Room. You can watch here.
"42nd Street" is playing in Orange County at Segerstrom Center for the Arts through Sunday, November 22. This revival performance is directed by co-author Mark Bramble and choreographed by Randy Skinner, 2001 Tony Award winners for Best Musical revival.
With classic songs like, "We're in The Money," "Lullaby of Broadway," "Shuffle Off To Buffalo," "Dames," "I Only Have Eyes For You" and of course "42nd Street," this show will keep you tapping along all night.
Single tickets start at $29 and can be purchased online at
SCFTA.org
, the Box Office at 600 Town Center Drive in Costa Mesa or by calling
714.556.2787
.
---
More Greer's Girls