Greer's Girls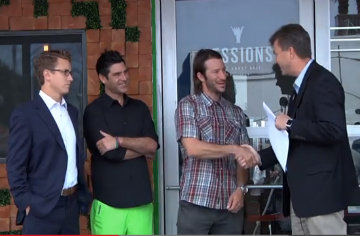 04.17.14
By Natalie Aronson,
We were able to capture on film the new Sessions Sandwiches on the Newport Beach Peninsula and talk to the creators of the new sandwich cafe. You can take a look here.
---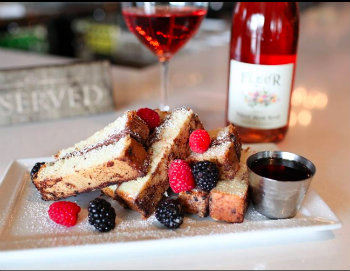 04.14.14
By Natalie Aronson
SeaLegs Wine Bar
is hosting its first three-course Easter Sunday Brunch, complete with bottomless Champagne.
The prix fixe menu, created under the direction of two-time Golden Foodie winner Chef Alexander Dale, will highlight close to a dozen new appetizer, entree and dessert brunch items; an assortment catering to an array of palettes.
"There's nothing better than enjoying Easter Sunday Brunch with loved ones and partaking in our spring-inspired, Easter Sunday Brunch celebration that is sure to gather our frequent and new brunch guests for a new Easter tradition," says SeaLegs Wine Bar Co-Owner Alicia Whitney.
Guests can choose from an assortment of delectable items including New England Chowder, Gravlox Benedict, and Cinnamon Beignets.
The brunch, which begins serving champagne at 10 a.m. all the way through the 3 p.m. end time, is priced at $49.95 per person, while spots still last.
SeaLegs is at 21022 Beach Boulevard #105 in Huntington Beach. 714.536.5700.
---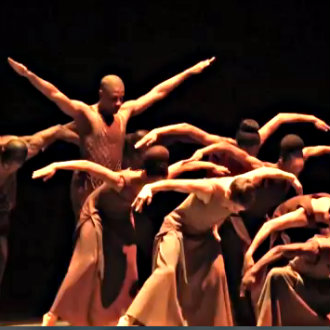 03.31.14
---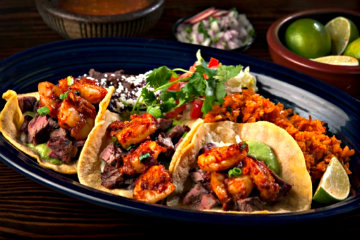 03.24.14
By Natalie Aronson
Walking through large wooden double doors, I was greeted by the smell of a burning wood-fire grill and the warm smiles from a group of hostesses. Nestled across from the Bella Terra, Huntington Beach's
Solita Tacos & Margaritas
has the welcoming Mexican hospitality that comes hand in hand with the authentic plates dished up.
A branch off of Newport Beach's Sol Cocina, Solita embodies what the owners initially intended for their restaurants. Their hope was to create the neighborhood feel with home cooked dishes that always hit the spot after a long surf or a day with family. Taking from traditional street vendor food and adding a southern california twist, Solita has dishes that are sure to please your growing appetite.
Solita's entire menu is made in-house from fresh ingredients, all the way down to Chef Deborah's house made hot sauces. What makes the dishes stand out is how simple the ingredients are. With no more than five or six ingredients per dish, the flavors and simple and sophisticated, just as mom's cooking would be.
I sampled a selection of Solita's Happy Hour items, all $5 and served from 3 p.m. to 6 p.m. Monday through Friday. Not much of a margarita gal myself, I was hesitant to try Solita's as I was dreading the after taste that typically follows. Much to my pleasant surprise, the frozen house margarita in no way resembled any of my past margarita messes. Left to swirl until slush in a whirling machine, fresh oranges, limes, lemons and simple syrup are blended together with triple sec tequila. Made fresh every day, the margaritas are served frozen, skinny, or as the classic house with ice.
Proteins cook and sauces simmer atop Solita's wood-fire grill which adds a welcomed hint of smokiness to most of the dishes sampled. As an appetizer, try the mini sweet potato fries with cotixa cheese and chipotle sauce for a sweet and salty starter or keep it classic with the hand made tortilla chips and salsa.
Street-style tacos and crisp taquitos add to the menu and if you are feeling bold, you can branch away from the classics and taste a perro caliente 'changa'- a mexican hot dog! A mexican hot dog rolled in a flour tortilla with bacon, cream cheese, pickled jalapeño and onion, deep friend and topped with sour cream, lettuce, green onions and salsa fresco- serve with a sweet and tangy chipotle ketchup. Let me say, this is definitely a dish to share. First reading the description, I thought I was on for a heavy heaping of fair food, but the flavors compliment each other quite nicely and the chipotle ketchup cuts the heat from the jalapeños.
Whether it be the flavorful dishes, freshly made drinks, or warm ambience that draws you in, Solita's Happy Hour is sure to impress and leave you excited for the next time you stop by.
Solita
Tacos & Margaritas in 7631 Edinger Ave., Suite 1508 in Huntington Beach. 714.894.2792.
---
More Greer's Girls