20qs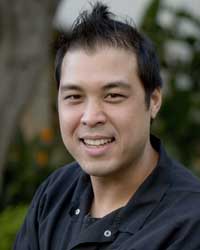 Chris Garnier
08.17.08
1. What character in a movie or book do you most identify with?

N/A! I hardly watch movies and books give me a headache! Hah!
2. What do you do to relax?

Kick back and watch reality TV; to be honest, anything from VH1, MTV, E Channel, A&E, etc.
3. Favorite vacation spot?

Hawaii, of course -- my hometown!
4. Where haven't you been that you're dying to go?

Europe.
5. What's your next major goal in life?

To operate and oversee multiple unit restaurants.
6. Who had the biggest influence on your life?

Mom and Dad, family values!
7. Favorite drink?

Fruit punch from McDonald's on Hawaii, can't get that here in the O.C.!
8. Favorite restaurants in Orange County?

Matsu's in H.B., Sage, Kappo Sui, Anjin, and Mitsuwa's Food Court!
9. Last major purchase?

Three signature series hybrid George Lynch series Stratocasters ... that was a while ago.
10. Dumbest investment?

My '71 El Camino SS. Anyone wanna buy it?
11. A famous person you love to meet?

Kobe Bryant. Need him to sample some Hawaiian fusion cuisine!
12. Biggest accomplishment?

Working for Roy all these years.
13. What's your biggest fear?

Sharks!
14. Who is your favorite artist?

George Lynch. He was the lead guitarist for Dokken back in the heavy metal hair days!
15. If you had to begin a different career, what would you do?

Something to do with cars; grew up with my dad teaching me everything automotive.
16. Secret most people don't know about you?

I'm a heavy metal/rock fan with more than 30 guitars!
17. Who is your favorite fictional character?

David Caruso on "CSI." He always gets the bad guys at the end!
18. Your biggest extravagance?

My guitar collection.
19. What's your favorite CD?

Geez, that's a hard one, I love everything from rock to reggae, classical, jazz, hip hop, just about everything. Oh yeah, don't forget the Hawaiian Jams!
20. What was the best day in your life?

Too many in the past and more to come ...
---