Greer's Blog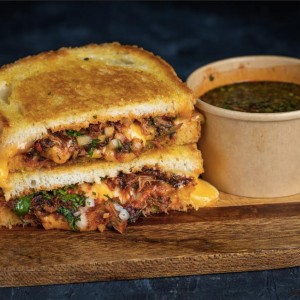 Grater Grilled Cheese Introduces New Menu Creations
03.04.21
Grater Grilled Cheese, a grilled cheese-focused restaurant with locations in Huntington Beach and Irvine is bringing cheesy goodness to anyone who loves a gourmet, chef-inspired twist on the grilled cheese sandwich.
Choose from over 10 delicious Chef Creations or build your own. Grater also offers a nice selection of Grater burgers, Pomme Frittes (Grater Cheese French Fries), and Mac and Cheese.
Grater Grilled Cheese is making mouths water again with two new creations. Birria Grilled Cheese ($11.99) is on the menu for a limited time, featuring the brand's signature Basic5 cheese base, braised beef short rib, cilantro, onions, and a birria consommé for dipping. The eatery is also catering to younger grilled cheese aficionados with a fun addition to the kid's menu that truly captures the best of both worlds. Beginning March 1st, kids can enjoy the Grater Pizza Cheese ($8.99) featuring a pepperoni pizza exterior and decadent grilled cheese interior, served alongside chips and apple juice.
Open daily.
Grater Grilled Cheese Irvine is located at 6628 Irvine Center Drive in Irvine.
Open Wednesday-Sunday.
Grater Grilled Cheese Huntington Beach is located at 120 5th Street, Huntington Beach.
---