20qs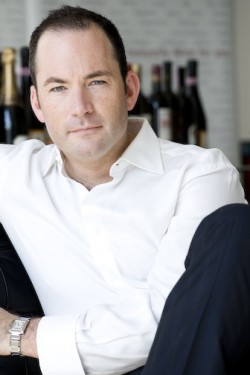 Ian Blackburn
11.08.09
1. What character in a movie or book do you most identify with?
James Bond was always a favorite, but I'm probably more of a Bud Fox.
2. What do you do to relax?
Cook and clean. I find it therapeutic.
3. Favorite vacation spot?
Paris.
4. Where haven't you been that you're dying to go?
China.
5. What's your next major goal in life?
Deciding what is next in life, and what I want to become from here.
6. Who had the biggest influence on your life?
My parents, all of them: Dad, Mom, Step Dad 1, Step Dad 2, Step Mom 1.
They were all fantastic and influential, rare I think, but special to me.

7. Favorite drink?
The next one I'm going to have. Negroni's for a cocktail. Champagne on a date. Burgundy when I'm alone. Something out of a Magnum makes a party.
8. Favorite restaurants in Orange County?
Scott's Seafood, Bistango, Mastro's Ocean Club, Lawry's, Golden Truffle, Five Feet, Splashes at Surf and Sand.
9. Last major purchase?
Flight to New Zealand, and wine, wine, wine.
10. Dumbest investment?
BMW X5. stupid expensive, but I love to drive it and would do it again.
11. A famous person you love to meet?
Warren Buffet or Linda Evangelista for different reasons.
12. Biggest accomplishment?
Staying self employed, and being able to do something I love for a living.
13. What's your biggest fear?
Becoming boring.

14. Who is your favorite artist?
Jackson Pollock sometimes. Edgar Degas other times.
15. If you had to begin a different career, what would you do?
Stock market, financial work.
16. Secret most people don't know about you?
I'm dyslexic, and I love to sing Neil Diamond tunes.
17. Who is your favorite fictional character?
James Bond or Sir Lancelot.

18. Your biggest extravagance?
Dining, I eat way out of my budget.
19. What's your favorite CD?
Music is my crazy passion. Kruder & Dorfmeister: Gold Sessions; Depeche Mode: Black Celebration; Currently, Silver Sun Pickups is in my CD player.
20. What was the best day in your life?
Meeting my ex-wife (answers the question, what was the worst day of my life). I have many best days of my life though and plan for more.
---