Greer's Girls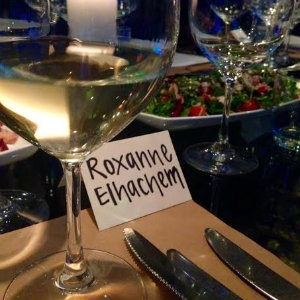 John Terlato Wine Dinner Cucina Enoteca
06.08.16
By Roxanne Elhachem
Cucina Enoteca Restaurant Newport Beach in Fashion Island kicked off June with an exclusive wine dinner with John Terlato of Terlato Wine Groups. The dinner was set in the back patio of the restaurant, giving it a more intimate feel, and included lots of wining, dining, and learning.
The delightful John Terlato spoke to the group of foodies and bloggers, such as myself, how he came to be a successful winemaker. He shared stories of working with wine as a young boy with his father and grandfather, "Wine was always at the table. My dad wanted it to be a beverage for us, not an alcoholic drink that can be abused. So it was always available to us." He conducted the wine tastings for the table while talking about his passions for his wines and the process from grape to bottle.
There were 7 wines presented with several dinner items from the Cucina Enoteca menu:
2015 Pinot Grigio, Friuli
Stuffed fried squash blossoms
2013 Elevage Blanc
2013 Sanford Chardonnay
Both paired with chopped salad, beets and avocado, and the arugula heirloom tomato
2012 Sanford Pinot Noir
2013 RutherFord Hill Merlot
2012 Chimney Rock Cabernet Sauvignon
2012 Napa Valley EPISODE
All paired with Roasted Cauliflower with pine nuts, dates, and limes; Lamb 'Osso Bucco' Confit, Short Rib Pappardelle; Grilled Octopus.
The night ended on a sweet note with a creamy Tiramisu and a Creme Fraiche Panna Cotta.
This is not the first wine dinner Cucina Enoteca has hosted. The establishment hosts constant wine dinners and tastings, at least a few a month. All members of the community are welcome to participate and register themselves in the events. Cucina Enoteca also offers guests a large collection of wine to choose from to purchase to enjoy at home.
Previous events as well as the future events are all on Cucina Enoteca's website
For more information about the Terlato Wine Group and new additions in the Terlato Kitchen collection, visit terlatokitchen.com and twg.com
---