Blog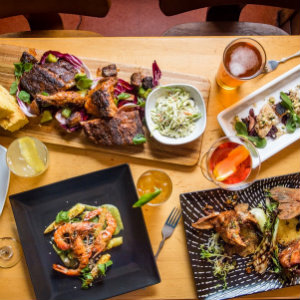 Memphis Cafe Debuts Summer Menu
07.12.19
Memphis Café celebrates summertime with a flavorful new menu crafted by co-founder and Executive Chef Diego Velasco. Starting Sunday, July 14, experience a vibrant menu features an exclusive addition of five new dishes and three craft cocktails each taking your taste buds on a culinary adventure.
The Fried Washington Oysters offer an interesting twist on a breadless oyster po boy, and the Spice Crusted Striped Bass, served with a scallion-ginger pancake, is reminiscent of chicken and waffles - a southern classic at Memphis Café. For dessert, Chef Diego recommends the blackened rib cap steak, a melt in your mouth, savory explosion of smokey flavor to end the night.
Summer Menu highlights include entrees such as Fried Washington Oysters with Red Beans & Rice, Smoked Pork Belly, and Zucchini Mignonette, $16; Fresh Baby Corn-Street Style with New Caledonian Prawns, Queso Fresco, and Green Tomato Conserva, $18; Spice Crusted Striped Bass with Scallion-Ginger Pancakes, Baby Bok Choy, and Soy Lime Glaze, $28; Hickory Barbecue with Burnt Ends, Chicken, Baby Back Ribs, Cornbread Madeleines, and Roasted Jalapeno Slaw, $21.Lastly, there's Blackened Rib Cap Steak with Corn Cheese, Hen of the Woods Mushroom, and House Steak Sauce, $29.

Cocktails -- $12---Retirement with California Gin, Wine Aperitif, and Amaro, Love; Chai on Fire with Mezcal, Coconut Rum, Lime, Honey, and Chai Spiced Tea; and Melt Banana with Blinking Owl Aquavit, Banana Liqueur, Lemon, and Absinthe.
Open nightly from 5 to 10 p.m.; late night menu 10 p.m. to midnight Thursday through Saturday; 3 p.m. to 6 p.m. Monday through Friday; brunch daily 8 a.m. to 3 p.m.; transitional menu 3 p.m. to 5 p.m. *Summer menu is available during dinner only.
2920 Bristol St., in Costa Mesa. 714.432.7685 or visit memphiscafe.com
---