Greer's Blog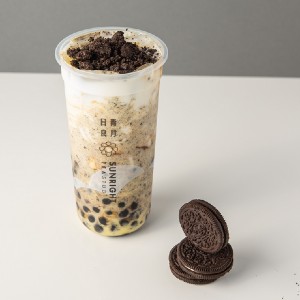 National Oreo Cookie Day Is Every Day at Sunright Tea Studio!
03.05.21
National Oreo Cookie Day is Saturday, March 6 and it's EVERY DAY at Sunright Tea Studio where they celebrate this iconic cookie in their Oreo Brûlée Boba Milk ($5.65) made of a crème brûlée foam and crushed Oreos combined with sweetened fresh milk and boba!
Sunright Tea Studio, Southern California's newest Bubble Tea Shop, suggests guests Shake their Oreo Brûlée Boba Milk "17 Times" before drinking it. Sunright Tea Studio suggests this not only because it is their tried-and-true method of blending their flavors and textures perfectly, but also because they want their guests to stop and savor a happy moment – even if it is only 17 seconds long!
Sunright Tea Studio has four locations in Orange County:
Costa Mesa (The OC MIX), Diamond Bar, Fullerton, Irvine Diamond Jamboree, and Irvine Village Center.
Guests can order from each location directly or visit SNRTea.com.
Photo Courtesy of Sunright Tea Studio
---