Dining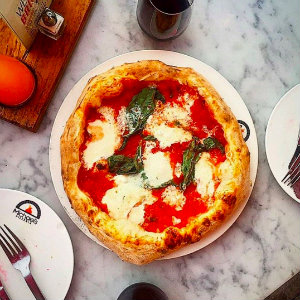 Michael's Pizzeria at Dine Out Long Beach, Restaurant Week 2.0
For anyone who loves pizza, you are in for an incredible pizza experience at Michael's Pizzeria, a sister restaurant to Michael's on Naples rated the #1 restaurant in Long Beach. It boasts two locations in Long Beach: on Naples Island and in Downtown Promenade. And now is the perfect time to plan on dining at Michael's Pizzeria. It's participating in Dine Out Long Beach, Restaurant Week 2.0, the city's premier dining event from February 19-25.
This is not your typical pizzeria, Michael's Pizzeria sources locally grown, organic vegetables, they grow their own herbs and tomatoes, and who else makes their own sausage, sauces, dough, and cheeses from scratch? Michael's Napoli-style pizza is our favorite and each location has gone all out for Dine Out Long Beach Restaurant Week—they each offer completely different menus so that you can go to both!
Michael Pizzeria Downtown Promenade is offering a three course dinner for $30 with choices like Crostini di Bresaola, thin sliced cured beef served with arugula and palm heart in lemon olive oil and topped with parmesan cheese; a Quattro Fromaggi Pizza Con Speck with fontina, mozzarella, parmesan, and smoked mozzarella and speck; and Bread Pudding with Panettone and chocolate bread pudding topped with chocolate sauce. The entire Dine Out Long Beach menu is here.
Michael's Pizzeria on Naples Island is offering a three-course dinner for $20 with choices like Vongole Arrabbiate with sautéed manila clams with Calabrian chili and tomato sauce; Fusilli Al Forna, a pasta with Fontina cheese, sausage, mushrooms and béchamel; and Chianina Burger, a wood-fired Chianina burger with lettuce, red onions, and house aioli; and house made gelato. The entire Dine Out Long Beach menu is here.
210 East 3rd Street in Long Beach. 562.491.2100.
5616 E. 2nd Street in Long Beach. 562.987.4000.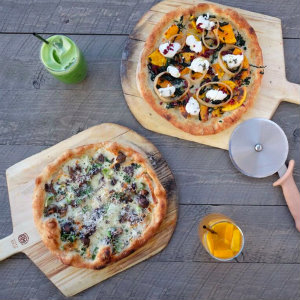 True Food Kitchen Debuts Fall Seasonal Menu
It's so easy to eat healthy and delicious foods at True Food Kitchen at Fashion Island. And, now is a great time to get in to try the fall menu featuring seasonally-driven food and autumn-inspired cocktails and refreshers. Each dish follows the principles of the anti-inflammatory food pyramid, and its commitment to wholesome seasonal ingredient and simple preparations so that you can enjoy the freshness and flavor.
Favorites from the fall menu include Charred Cauliflower, Chioggia Beet Bruschetta and the Vegetarian Garden Scramble featuring organic scrambled eggs with smoked gouda and topped with smoked onions, braised Swiss chard, roasted butternut squash, roasted Brussels sprouts and roasted cauliflower. We loved the housemade vegan Butternut Squash pizza featuring artisan pizza dough baked with garlic puree, roasted butternut squash, kale, smoked onions and topped with thyme, sage, lemon oil, dried cranberries and vegan almond ricotta.
The Pan Roasted Chicken is a must; it's a boneless half chicken served with cannellini beans, maple glazed butternut squash and braised Swiss chard in an apple-rosemary jus with sage leaves and thyme. True Food is also a great place just to stop in for desserts! The new options include guilt-free and gluten free desserts including the famed Squash Pie featuring a graham pie crust filled with butternut squash and topped with whipped coconut cream and the Apple Goji Crisp made with Fuji apples and goji berries tossed with lemon and cinnamon, topped with an almond crumble and then baked and topped with whipped coconut cream.
At True Food Kitchen's scratch bar, you can enjoy a fall-inspired lineup of handcrafted cocktails that are as nutrient-rich as they are ripe with flavor, like the Apple Ginger Mule, Autumn Orchard Sour, Honey & Grapefruit Mimosa and the Cranberry & Pomegranate Mimosa. All-natural seasonal juices, teas and refreshers are also available including the Pressed Apple Soda, Orange Rooibos Tea, Ginger Tulsi Tea and Apple Carrot Ginger Tonic.
True Food Kitchen's seasonal menu will also feature some of its most popular offerings including the Spaghetti Squash Casserole, Edamame Dumplings, Scottish Steelhead, Sustainable Seabass, Kale Guacamole, Turkey Burger, Farmers Market Crudités, and desserts like our favorite Flourless Chocolate Cake, among others.
Open 11 a.m. to 9 p.m. Sunday through Thursday; 10 a.m. to 10 p.m. Saturday; and 10 a.m. to 9 p.m. Sunday.
451 Newport Center Drive in Newport Beach. 949.644.2400.