Dining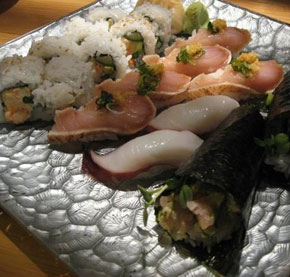 Sushi Oasis: Murasaki
When it comes to pleasing a plethora of sushi cravings, Murasaki in Santa Ana pretty much has it covered: Traditional, non-fussy nigiri sushi and sashimi? Sushi cut rolls? Yes to both and better yet, the elegantly cooked fish dishes at the Japanese restaurant deserve praise, too.
For more experienced sushi lovers, sit at the bar and order the omakase, or chef's specials, which can start at a reasonable $35 per person. Or try the prix-fixe sushi set for $30, which comes with miso soup, salmon skin salad, miso cod, an 8-piece sushi selection and ice cream to finish.
Other standouts include the red-snapper sashimi, thin petals of fish drizzled in a rich shishito and scallion oil; the Negi-Toro roll with bright red cubes of tuna and minced green onion; steamed Kinki fish; raw octopus with yuzu and for dessert, don't miss out on the soy milk pudding. For the month of October, order a pitcher a Kirin Draft or a carafe of sake and receive an order of spicy crispy fish salad for free.
Murasaki is at 2901 W. MacArthur Blvd. (at Fairview), Santa Ana. 714.241.1000. Hours: 11:30 a.m. to 2 p.m.; 5:30 p.m. to 10 p.m. Monday through Saturday. Closed Sundays.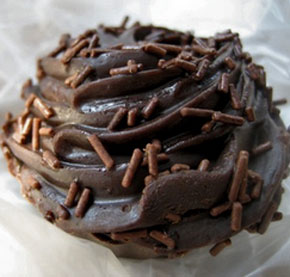 Oui! Oui! C'est Si Bon
Chances are you've already sampled the star of C'est Si Bon Bakery in Newport Beach: its crispy French baguettes can be found at many popular coastal OC restaurants. But if you haven't, now's as good a time as any. The bustling bakery has been doling out some of the best deli sandwiches and pastries, as many locals can attest.
Grab a bagged lunch by ordering any one of their hefty sandwiches stuffed with a variety of quality cold cuts and cheeses like Havarti and even Brie. A tip: Arrive by 9 a.m. to grab freshly baked baguettes right outta the oven, and don't forget to nab one of C'est Si Bon's divine croissants as well. And if you're a chocolate lover, do try the Chocolate Bomb, a dome-shaped dessert filled with decadent mousse.
C'est Si Bon is at 149 Riverside Ave. (near the post office), Newport Beach. 949.645.0447.