Dining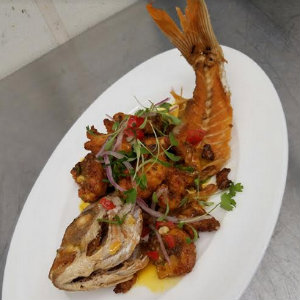 Raya's Fall Pan-Latin Coastal Cuisine
You cannot beat the food and ocean views at Raya at Ritz-Carlton, Laguna Niguel. The resort's signature restaurant is constantly updating its menus and offerings by executive chef Richard Sandoval and chef de cuisine Steve Wan. Their latest fall menu is one of the best we've ever tasted—it showcases the season's best Pan-Latin coastal cuisine and they've debuted delicious hand crafted cocktails.
Raya is doing things differently than any other restaurant in Orange County—they create tastes from ingredients that you find elsewhere: togarashi aioli, yuca, salted kunbo, white pear kimchee, achiote ponzu, morita chiles and chayote slaw. It's latest fall menu favorites include shared starters such as Smoked Swordfish Dip with tomato, onion, cilantro, aioli, pickled jalapeno and corn tortilla chips; and Peruvian Scallop Crudo with cucumber-green apple juice, serrano, red onion and black salt.
Raya's must order small plates include a Crispy Lamb Kalbu with a scallion pancake, butternut "ajo negro" and white pear kimchee; and Piloncillo Shrimp with chayote slaw, candied pepitas, morita chile and cilantro; and the Ceviche de Leche with seabass, Brazil nut milk, sweet potato, red onion, cilantro and sweety pepper.
From the large plates, you must order the Branzino "Chicharron" with aji-orange-butter sauce, potato puree, marinated red onion salad and lime. The Chilean Seabass Poke Bowl is unlike any other poke you'll try, this has brown rice, brussels sprouts slaw, pickled cucumber, aji panka and furikake. We can't get enough of the sides: Sweet Potato with roasted apple, morita chile, pumpkin seed, goat cheese and orange coriander sauce and Roasted Cauliflower with chimichurri and cotija cheese; and Dungeness Crab Mashed Potatoes.
Raya is at The Ritz-Carlton, Laguna Niguel is at One Ritz-Carlton Drive in Dana Point. 949.240.2000.
A Refresher at Ritz Prime Seafood
The Ritz Prime Seafood opened last year in a stunning waterfront location next to Billy's at the Beach in the former Chart House location. No doubt it had big shoes to fill, so many locals associated the name with the former Ritz that can't be repeated since the era is gone. The new Ritz Prime Seafood is chic and modern—a completely different vibe for today's dining scene—and its views of the harbor and sunset are picture perfect.
Just recently the Ritz Prime Seafood acquired a new executive chef, a new menu, lower prices and a new management team. The globally influenced culinary offerings from executive chef George Neyra include delicious bites such as a falafel lollipop with za'atar yogurt, tomato soup with grilled cheese and bacon and King Crap poppers with sriracha aioli.
Favorites from the appetizer selections include Hamachi Crudo with yuzu koshu, sweet apple vinegar, cucumber and avocado; and Chuck's Wagyu Sliders white cheddar, caramelized onions, citrus jam and Greek yogurt.
Of course, seafood is the star of the show, and you can enjoy a selection of Osetra, Russian, Siberian or Paddlefish caviar served with a choice of accompaniments or a Seafood Bazaar, seafood plates of mixed shellfish delights. Other From The Sea offerings include our favorite Branzino with sunchoke, pistachio, couscous and sultana; Sea Scallop with cauliflower, pomegranate and hazelnut brown butter; and Alaskan Halibut with red bell pepper, eggplant puree and confit tomatoes.
You can also go for From The Land selections including our favorite, the Lamb Rack with zucchini mint puree and Israeli couscous. Other tasty entrees include the 16 oz. Tomahawk Steak with bone marrow butter, broccoli potato au gratin and marsala jus.; and Jidori Chicken with polenta, braised fennel, pickled red onion, sweet onion jus and more.

The Ritz Prime Seafood is also a perfect spot for Sunday Brunch with Sweet Start offerings such as Bananas Foster Waffle, Chocolate Chip Pancakes and Strawberries and Cream. Full Plates include Chuck's Huevos with salsa verde lasagna and refried beans; Crab Hash; Waffle and Chicken; Steak and Egg; and Hangover Burger. Other brunch favorites are Breakfast Melt with bacon, ham, fried egg, cheddar cheese, sourdough, roasted potatoes; Chorizo & Egg Burrito; and Avocado Toast with goat cheese, green apple and sweet potato.

You can enjoy craft signature cocktails; wine chosen to complement the chef's menu including both celebratory bottles, as well as reasonably priced wines for casual drinking and dining.

Social Hour is enjoyed in the Bar, Lounge and on the Patio, Monday through Friday from 5 to 7 p.m. and Sunday from 3 to 6 p.m. offering nibbles like Popcorn Shrimp, Claude's Wings and Chuck's Wagyu Sliders. Specialty cocktails, well drinks and wines by the glass are all half off.

The Ritz Prime Seafood is available for buyouts and can accommodate up to 350 people for a reception and 200 for a seated lunch or dinner.
Open from 5 to 10 p.m. Sunday to Wednesday; 5 to 11 p.m. Thursday to Saturday.

Social Hour 5 to 7 p.m. Monday to Friday; from 3 to 6 p.m. Sunday. Sunday Brunch – 11 a.m. to 3 p.m.

Live Music 5 to 10 p.m. Monday to Thursday; until 11 p.m. on Friday and Saturday; and noon to 3 p.m. Sunday.
The Ritz Prime Seafood is at 2801 West Coast Highway in Newport Beach. 949.720.1800.