Dining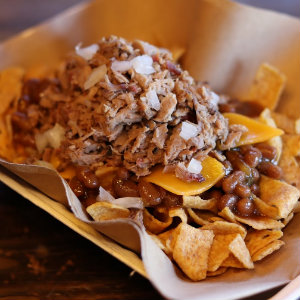 Where to Find Delicious Slow Smoked BBQ
Craving some delicious, slow-smoked barbecue, but aren't sure where to go? Dickey's Barbecue Pit, a Dallas-based family run barbecue franchise founded in 1941, offers nine locations in Orange County: Brea, Buena Park, Fountain Valley, Fullerton, Irvine, Ladera Ranch, Laguna Niguel, Lake Forest and Tustin.
It offers amazing deals and delicious Texas-style barbecue. All meats are slow smoked on-site in hickory wood burning pits. They offer a selection of signature meats: beef brisket, pulled pork, jalapeno cheddar kielbasa, chicken and pork ribs; home style sides: jalapeno beans, fried onion tanglers, baked potato casserole, and asiago creamed spinach; tangy barbecue sauce and free kids' meals every Sunday.
They even offer salads, sandwiches, plates, stuffed baked potatoes, family packs, desserts and complimentary soft serve ice cream for all!
Dickey's has become a standout in the fast casual industry—it just achieved first place on Fast Casual's Top 100 Movers and Shakers list and featured on the trade publication's recent Executive Food Tour.
Open from 11 a.m. to 9 p.m. daily.
2435 Imperial Highway in Brea. 714.515.8177.
8300 La Palma Ave. in Buena Park 714.882.5875.
18120 Brookhurst St. in Fountain Valley 714.887.8022.
1941 W. Malvern Ave. Space Q in Fullerton. 714.451.4620.
3851 Alton Parkway in Irvine. 626.600.4257.
25606 Crown Valley Parkway in Ladera Ranch. 949.364.1729.
27931 La Paz Rd., Suite D, in Laguna Niguel. 714.709.9051.
23622 Rockfield Blvd. in Lake Forest. 949.860.7223.
17245 17th St. in Tustin. 714.602.3874.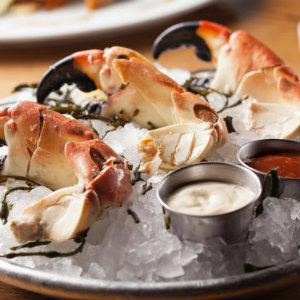 Water Grill Makes Waves in Costa Mesa
Water Grill, noted as one of the best seafood restaurants in Southern California, just opened in the former Scott's Restaurant & Bar near South Coast Plaza in Costa Mesa. Water Grill also has locations in Downtown Los Angeles, Santa Monica and San Diego.
King's Seafood's, the company's private seafood distribution operation based in Santa Ana provides all the seafood for Water Grill's menu. Menus are crafted daily to account for freshly caught fish and seasonal culinary changes for Water Grill guests to enjoy. Water Grill prides itself in offering a wide variety of fin fish, oysters, crustaceans and shellfish.
The Orange County Water Grill is their largest restaurant yet, the 500-seat restaurant boasts several private dining options and multiple event spaces, ideal for intimate celebrations, business gatherings, large parties and charity events.
Water Grill's extensive menu includes a raw bar and chilled shellfish selection of both Pacific and Eastern oyster varieties, as well as clams, scallops, lobster and crab. Available in three sizes, the Iced Shellfish Platters provide an incredible sampling of chilled shellfish.
The exhibition kitchen showcases large sea water tanks displaying the ever-changing assortment of live products including Wild Barents Sea Red King Crab, Washington State Dungeness Crab, Santa Barbara Spot Prawns and local Spiny Lobster.
The constantly evolving lunch and dinner menus feature more than a dozen varieties of fish options as well as a whole fish program. Other lunch and dinner favorites include Wild Columbia River King Salmon with lemon nage and heirloom tomatoes, Wild Ross Sea Chilean Sea Bass with cauliflower purée, lemon chutney, hazelnuts, brown butter, and the Crudo Sampler with wild Tahitian bigeye tuna, wild eastern sea scallops, wild Columbia River king salmon.
Water Grill also serves mouthwatering deserts such as Caramel Bread Pudding with alaea red sea salt, Banana Chocolate Sundae with chocolate covered corn flakes, and Warm Almond Cake with red wine poached apple, apple cider ice cream, and red wine caramel.
The weekend brunch menu features Baked Salmon Rillettes with crème fraiche, mustard, dill and tobiko, Lemon Ricotta Pancakes with lemon and vanilla syrup and sweet creamed ricotta, and Crab Benedict with jumbo lump blue crab, poached organic eggs and grilled asparagus, in addition to specialty morning cocktails.
Lunch and dinner are served 11 a.m. to 11 p.m. Monday – Thursday, and until midnight on Friday and Saturday. On Saturdays and Sundays Water Grill is open for brunch, lunch, and dinner, 10 a.m. – 11 p.m.
Water Grill is at 3300 Bristol St. in Costa Mesa. 949.208.7060.