Dining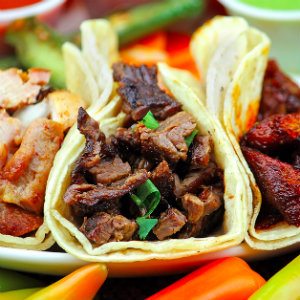 The TGUNZ burrito though!
By Asma Mohammed
Everyone has trouble picking just one thing off of a menu. Fortunately, Lupe's Taco Shop in Huntington Beach has thought of the perfect solution.
Introducing the Tgunz Burrito: a massive California burrito stuffed with some of the best carne asada you will ever taste, as well as guacamole, and a taquito! And if that isn't enough, the whole thing is wrapped in a quesadilla. The whole burrito is the size of your forearm and is perfect for anyone who loves Mexican food and is indecisive.
They also have a few other options for those who want to spice things up a little, such as a Flamin' Hot Cheetos Burrito filled with carne asada, guacamole, sour cream, cheese, and of course, Hot Cheetos. And perhaps what they are most known for, the Monster Burrito. The Monster comes with fries and is filled with your choice of meat, beans, guacamole, sour cream, lettuce, cheese, and fresh made pico de gallo wrapped in a double tortilla.
This burrito is no different from your average burrito apart from the fact that it is literally twice the size of any other burrito they make! That's right, twice the size of your forearm!
Lupe's Taco Shop is some of the most quality Mexican food on this side of the border and affordable enough to come back every week and try a new burrito! They have shops in Huntington Beach as well as San Diego. Those are just three burritos off of their signature burrito menu, but don't imagine what the rest of them are like, you have to try them for yourself!
Open 7 a.m. to 10:30 p.m. Monday; 7 a.m. to 11 p.m. Tuesday; 7 a.m. to 10:30 p.m. Wednesday; 7 a.m. to 10:30 p.m. Thursday; 7 a.m. to 11 p.m. Friday; 7 a.m. to 10:30 p.m. Saturday; 7 a.m. to 10 p.m. Sunday.
4916 Springdale St. in Huntington Beach. 714.892.7252.
Brio Tuscan Grille's new, "Moderno" menu
Tuscan dining in Orange County just got even better with Brio Tuscan Grille's new, "Moderno" menu featuring 13 new entrées; delicious small plates ideal for sharing, a renewed drink selection, and a chic menu design. The menu highlights a new take on Tuscan dining. "Moderno" menu items include Espresso Rubbed Ribeye, Maple Balsamic Brussels Sprouts, Balsamic Braised Short Ribs and Roasted Tomato Basil Fettuccine.
Longtime fans of Brio's time-honored favorites can still choose from signature plates such as Lasagna Bolognese Al Forno, grilled to order steaks, made-to-order pastas, Caesar salad, Bruschettas and Flatbreads, Tuscan Grilled Porkchops and plenty of low-calorie and gluten-free selections.
The wide variety of choices on the new menu was created to cater to individual tastes. BRIO's two-course lunch plates allow you to combine a soup or salad with a delicious entrée, while enjoying portion control. In the spirit of sharing, guests can enjoy the dinner menu's array of small plates, from Mezza Beef Carpaccio to White Bean Dip, created for two, three or four people to experience together.
Brio's new menu items include appetizers such as Brûléed Parmesan Crème and Burrata & Ciabatta; and Bruschetta Chef's Seasonal Bruschetta.
Seafood selections include Crab Crusted Salmon; Shrimp Risotto & Broiled Maine Lobster Tail; Jumbo Lump Crab Cakes and Pan Roasted Tilapia.
From the Grille — New Grilled Entrees with inspired sides include Espresso Rubbed Ribeye (16 oz.); Center-Cut Filet Mignon (6 oz. & 8 oz.); Lamb Chops; and seasonal fresh catch.
Sides such as Fingerling Potatoes BRIO; Maple Balsamic Brussels Sprouts, Sicilian Cauliflower, Yukon Gold Mashed Potatoes, Creamed Spinach & Kale, White Bean & Escarole Ragout, and Haricot Vert & Roasted Peppers.
Chef's Specialties include Balsamic Braised Short Rib and Prosciutto Wrapped Pork Tenderloin. Sandwiches include Burger Americano; Prosciutto & Burrata Sandwich; and Short Rib & White Cheddar Sandwich. Pasta includes Roasted Tomato Basil Fettuccine.
BRIO Tuscan Grille (near Nordstrom) is at the Irvine Spectrum Center at 618 Fortune Drive in Irvine. 949.341.0380.