20qs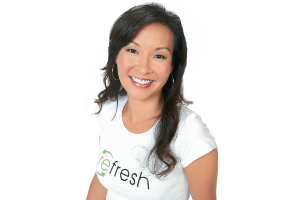 Alice Kim Cowell
02.28.12
1. If you had to begin a different career, what would you do?
It's funny you ask because I am living out this question right now! After a successful career in marketing, I decided to follow my entrepreneurial instincts and start my own company. I was able to apply the things I love about creativity with the best business practices I've learned over the years to create something I am passionate about. I'm doing exactly what I want to do.
2.What's your most prized possession?
The love and support of my family. Over the years I've come to realize how special this is. I feel very lucky to have been given a second chance at love with someone who is my perfect complement and shares the same values. He's taught me about what's truly important and helps me keep my work/life balance in check.
3. Favorite drink?
Agua de pipa. It's fresh coconut water. And I mean fresh like, you watch someone cut the coconut off the tree, slice off the top and stick a straw in it, kind of fresh. Whenever I travel to tropical locations, I look forward to this drink.
4. What are you cutting out because of the economy?
I have always been a cautious spender because I love to save. Those habits are serving me well these days!
5. Fantasy purchase?
A private island.
6. What can't you live without?
My iPhone. It completely organizes my work and life – it keeps me sane!
7. What's next on your "to do" list?
One of my goals in starting my own talent and modeling agency was to make the benefits of using a model more accessible to the business world. There is a perception of exclusivity in the industry that I want to change. Accomplishing that starts with getting the word out that we're new and different. It's the biggest thing on my to do list right now.
8. Biggest regret?
I believe that it is not healthy to live in a place of dwelling on regret. Everyone has negative experiences that they could do without, but they are usually the things that help you grow and appreciate the positive things you have in your life. But...maybe I still regret putting off getting an iPhone for so long.
9. Cause that you're most interested/involved in?
The AIDS Project. I have personally walked and raised funds for the AIDS Project in both Long Beach and Orange County for years; it's a cause that's very important to me.
10. Your dream day in Orange County?
My dream day involves riding my bike around the Newport peninsula. I would start in the morning with breakfast at Rudy's and watch the morning games. My next stop would be a slice of pizza at Original's for lunch. Then I'd end it with a visit to Mutt's, timed perfectly so that I could watch the sunset as I rode home.
11. Favorite place for breakfast?
The Original Pancake House in Aliso Viejo. They have a seasonal pumpkin pancake that is so incredibly delicious and bad for you, but I love to indulge in it when it comes out. They also have the best basted eggs and bacon!
12. What was the best day of your life?
Getting married to the man of my dreams in my beautiful backyard.
13. Last concert that you went to?
Stevie Wonder on New Year's Eve in Las Vegas.
14. Favorite vacation spot?
Anywhere with great surf and adventure.
15. If you had to live somewhere else, where would you like to move?
Closer to the beach...any beach in Orange County.
16. Favorite books?
"The Last Lecture," "Delivering Happiness" and "The Art of Racing in the Rain."
17. Favorite restaurants in Orange County?
K'ya Bistro in Laguna Beach. They have the best garlic basil dressing on their hearts of romaine salad and everything else on their menu is amazing too! Koba Tofu in Irvine for their Korean hot tofu soup and True Foods in Newport Beach for their edamame dumplings and chicken chopped salad.
18. Biggest accomplishment?
Taking the leap to start my own business.
19. What's your biggest fear?
Boredom. I like to be continually challenged and have opportunities to express creativity.
20. Secret most people don't know about you
I love to kickbox and watch MMA.
---