20qs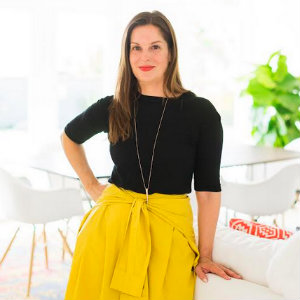 Anna Marie Claassen at Anthology Interiors
02.20.18
Corona del Mar-based interior designer Anna-Marie Claassen of Anthology Interiors has helped clients with gorgeous design plans to support their vision of life in the perfect home. At Anthology Interiors, she can help you with your new home build, remodel or furnishings project. We caught up with Anna Marie to find out more about what it takes to be an interior designer, where she finds inspiration and some of her favorite design elements.
1. Tell us about how you became interested in interior design?
I was a little-girl cliché – I was absolutely and utterly obsessed with decorating and furnishing my Victorian dollhouse when I was 9-13 years old. I wallpapered and carpeted that house completely, and even installed electric lighting and crafted accessories out of clay. I was also involved in decorating my parent's house – but back then in the 1990s, there was a lot of floral and Laura Ashley! I am very happy that our current era of design is more clean and modern.

2. What was your first design project?
It was a bachelor pad bedroom in Aliso Viejo. The gentleman wanted a contemporary look. It was a great first project as he put trust in me to run with everything. I was able to use a lot of creativity and used hanging bedside table pendants and a double-wide upholstered headboard that sat behind the bedside tables. Those are trends I am seeing a lot of now but hadn't seen much or at all back then.

3. What is your favorite aspect of the process?
Install day is the best! There's always that last-minute feeling of "will this work?" but seeing it all together in a room with the client is exhilarating to me.

4. How did you decide on "Anthology" for your name?
The name came to me in a moment of clarity. An Anthology is a collection of stories, the way my designs always reflect a collection of items from my clients' lives and really tell their story.

5. What does a typical day look like?
First I wrangle my two young sons to school and sneak in a spin or yoga workout. Then I usually have a couple of hours to answer emails, work on presentations and deal with order logistics with my design assistant. I try to shop or meet clients in the afternoons, focus on my kids in the late afternoons and evenings, and work on social media and my website after they are in bed. The days fly by!

6. Do you have favorite books/magazines on design? What about a favorite site?
I love Elle Décor and Architectural Digest for inspirational photos and vendor information. I also always skim the design blog Design*Sponge as it is a nice mix of projects and design business advice.

7. Where do you find inspiration?
My overall design style and textile obsession has been inspired by my travels to places like India, Japan, Peru and Egypt. I am inspired by my clients as we meet and discuss their needs and desires. There is almost always one special piece they love or something they really want in their home that helps direct the style and vibe.

8. Tell us about the most frustrating aspect of being an interior designer? And, on the flipside what's the most rewarding one?
The amount of time it can take for projects to be implemented and furniture to be ordered is frustrating for me and for my clients. You fall in love with an idea and want it now! But everything in good interior design takes time. The most rewarding aspect is that at the end of that wait we are delivering the best homes for our clients – and they are so appreciative and happy to be moving in!

9. What are some design trends you just don't like?
I've never been a fan of big, inspirational words or quotes on walls or signage in a home. There are also some trends that look great but are really not functional – like open kitchen shelving in a family home. That is a headache to maintain!

10. What are your favorite design elements?
I'm all about textures, so you will see a big mix of textiles in most of my projects. Right now I am pretty obsessed with faux fur, it has gotten amazing and soft, and I would love to throw them everywhere! I'm also very big on using exciting, notable tile where I can in kitchens and bathrooms.

11. How would you say you differ from other designers?
My firm is client-centric in its design process. Most important is the function of the room and pieces, next is the overall look. We design to the client's style preference. That's why my projects so far have a variety of styles, although they are all fairly modern. Another part of being client-centric is essentially holding their hands through the construction process. Construction can be extremely stressful, especially for those who have never gone through it. My goal is to lessen the stress as much as possible by working closely with the architects, builders, and vendors and to even make the process fun along the way!

12. What advice would you give someone considering your profession?
Consider that interior design is a service industry first-and-foremost. Even if you have a great eye and can design a lovely room, it is a whole different thing to service clients well and to have to work within a client's parameters. Working for an established interior designer is a great way to learn the ropes.

13. What would be your dream project?
Working with a great architect/builder team to construct an Anthology-designed fully-furnished new home in one of Corona del Mar's great beach-close neighborhoods, for a lovely family with kids who will get to grow up in this special house.

14. When it comes to furniture, what would you recommend we splurge on?
Upholstery is the most complex of the furniture pieces and the most important to order custom, if you can. Given the high cost of a sofa at retail, it isn't too much more expensive to order custom through a specialty upholsterer. It also allows you to specify the feel of the seats that you prefer and the dimensions that best fit your room. We are blessed with many great custom upholsterers here in Southern California so I can essentially watch the pieces being built.

15. What are some of your favorite color schemes?
Here at the beach, I almost always have blue in the room, somewhere! Blue is just such a great color that works with pretty much every other color. That said I'm looking forward to a project that will use hints of a deep green, for a more earthy and organic look.

16. What are you most excited about in 2018?
In 2018 I'm working on several new-home builds and those projects are where we can make the most impact and ensure that the finished result is exactly what the client wants and needs. It looks like 2018 will be Anthology's biggest year yet.

17. What's next on your to-do list?
I think it is finally time to delegate more of the Anthology Interiors workload, so I will be looking to hire a bookkeeper and social media manager, and maybe some others!

18. What are you most proud of?
Having the courage to start my own business when my kids were 1 and 3 years old. I love being a mom but I knew I needed to work too in order to keep my own identity and be happiest. The juggle of parenthood and work is tough but so worthwhile!

19. When it comes to design what do you think is the most important element?
Functionality is the unglamorous important element of a space. Homes are for living, and no matter how cool or elegant or beautiful a space is, if it doesn't work for the owner's lifestyle it doesn't work, period. Good looks are the fun part that come next.

20. A secret that most people don't know about you?
I have double-jointed thumbs. It serves no purpose in life other than a silly party trick!
---