20qs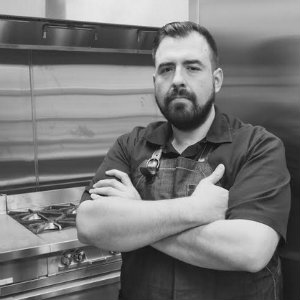 Chef Rolando Rubalcava at Playa Mesa
05.29.18
1. When did you first know you wanted to be a chef?
At 13 I stepped in to help my father cook at his taqueria. That's the day things clicked, and I knew this was something I really enjoyed.

2. What are you most excited about at Playa Mesa?
Running my own kitchen. And the ability to develop my own menu and style of food.

3. How will Playa Mesa differ from other Mexican restaurants in the area?
We're just going to do our own thing. Everyone has their own interpretation of good Mexican food and we have ours. Traditional Mexican dishes with a mix of modern influences.

4. What types of dishes can we look forward to at Playa Mesa?
Soulful dishes that hopefully bring back a good memory. Items like our Taquitos de Pollo (shredded chicken, escabeche, cotija, salsa verde, lettuce and crema), Enchiladas de Pascado (smoked halibut, roasted tomato, olives, capes, and queso cotija) and Al Pastor (chile pork loin, pineapple, and charred onion).

5. What are your favorite dishes to make?
I love to make salsas. Brings back early childhood memories making salsa with my family. Always one of our staples at the dinner table. And everything came fresh from the family garden. Chilis, tomatoes, cilantro. Still, enjoy making salsas to this day.

6. What are you most proud of?
Starting a family. Gives you a different perspective on life. Nothing I enjoy more.

7. What would you be doing if you weren't a chef?
Anything working with my hands. I love building and creating things. Not the office type.

8. Where is home?
Orange County, born and raised.

9. What chefs do you look up to in the area?
I look up to all chefs who appreciate and look after their staff. And who genuinely care about their craft.

10. Who had the biggest influence in your life?
That's easy. My parents had the biggest influence. I get my work ethic from them. No question.

11. Do you cook at home?
Not as much as I should or would like to.

12. What is your pet peeve in the kitchen?
When co-workers don't stack dishes or walk past trash. Pick it up!

13. What is the hardest part about being a chef?
Being apart from my family for most of the day.

14. How do you view the Orange County food scene?
Up and coming. Lots of good food now.

15. What advice would you give to a budding chef?
Invest in a good pair of kitchen shoes. Long days, long weeks.

16. Do you eat fast food and where?
I do eat fast food, mainly In N Out and whatever is open late. Who doesn't eat In N Out?

17. What do you love to do in your free time?
All my free time goes to my son and wife.

18. Do you have a favorite dish?
I love chilaquiles.

19. Do you have a most memorable meal?
Thanksgiving at my parents' home.

20. Secret most people don't know about you?
I would love to own a dog kennel.
---