Greer's Blog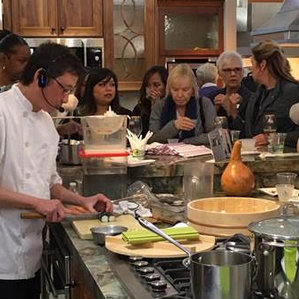 DINE OUT LONG BEACH KICKS OFF RESTAURANT WEEK 2.0 WITH A FREE CHEFS' COOKING + TASTING EVENT
02.14.19
Dine Out Long Beach, Restaurant Week 2.0 will host a free Chefs' Cooking + Tasting Series on Saturday, February 16 from 12 noon to 4 p.m. at Friedmans Home Experience in Long Beach. Long Beach Restaurant Week starts the following week on Sunday, February 24 and continues through March 2 with more than 50 restaurants participating citywide.
Featured chefs at the Chefs' Cooking + Tasting Series, whose restaurants are participating in Dine Out Long Beach, Restaurant Week 2.0, include:
12 p.m. – Laurie Grey of The Pie Bar in Downtown Long Beach.
1 p.m. - Chef Louise Solzman of Table 301 located on The Promenade in Downtown Long Beach.
2 p.m. – Adam Stearns of The Ordinarie doing mixology lessons.
3 p.m. –Jessica Saydah of Naples Rib Co. located on Naples Island.
Each chef will demonstrate a signature dish from within one of the state-of-the-art exhibition kitchens at Friedmans Home Experience. Guests can chat with chefs about techniques while learning recipes they can recreate at home. Recipe cards are available while supplies last.
The owner of Marina Wine (formerly Five O'Clock Wine Bar) will be hosting wine tasting while Stella Artois will serve their signature Belgium beer to guests in a keepsake chalice.
The Chefs' Cooking + Tasting Series is the kick-off to Dine Out Long Beach, Restaurant Week 2.0 – the city's premier dining event taking place February 24-March 2. More than 50 restaurants are participating citywide with 2-selection breakfasts and lunches starting at $10 and 3-selection dinners starting at $20 with optional wine and beer pairings at select restaurants. Some restaurants are also offering small plates and drink pairings as part of their Restaurant Week menu as well as shared options for two. No tickets need or passes required – guests can simply visit dineoutlongbeach.com for a list of participating restaurants, view menus, make a reservation at select Open Table restaurants at the site, and more. Guests can browse the website by neighborhood, cuisine or price point or browse restaurants serving breakfast, lunch or dinner.
Friedmans Home Experience located at 1827 E. Spring Street in Long Beach. The event and parking are free.
For more information, visit dineoutlongbeach.com, email at info@dineoutlongbeach.com or call 562.856.9292.
---