Greer's Blog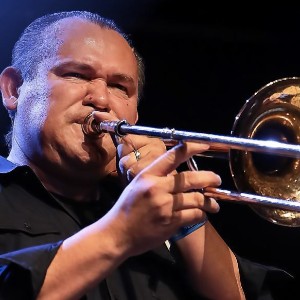 Free Livestream jazz events from Irvine Barclay Theatre
03.03.21
Jazz enthusiasts can enjoy free jazz livestream events courtesy of the Irvine Barclay Theatre in March.
Free Livestream: Francisco Torres Latin Jazz Quintet
Saturday, March 6 at 4 p.m. PST
Francisco Torres is a trombonist, arranger, composer, and educator who hails from the state of Sonora, Mexico. He is the musical director for the legendary Poncho Sanchez and a member of Gordon Goodwin's Big Phat Band, John Beasley's MONK'estra, and the Clare Fischer Big Band. He has been a part of several Grammy-winning records including Latin Soul (Poncho Sanchez), ¡Ritmo! (Clare Fischer), That's How We Roll, and Life in the Bubble (Gordon Goodwin). For the past several years, he has produced several Poncho Sanchez albums, earning five Grammy and Latin Grammy nominations for Best Latin Jazz Album.

Free Livestream: Bryan Cabrera Trio with special guest Edmund Velasco
Saturday, March 13 at 4 p.m. PST
Featuring Bryan Cabrera, drums and vocals; Ron Kobayashi, piano; Baba Elefante, bass; Special guest Edmund Velasco, saxophone
Drummer, percussionist, vocalist, and composer Bryan Cabrera has performed and/or recorded with Bunny Brunel, Dave Pell, Frank Devito, Ron Kobayashi, Mahesh Balasooriya, Kristin Banks, Doug Webb, Baba Elefante, Kaylene Peoples, Clarence Robinson, Roy Hargrove, Peter Sprague, Shirley Caesar, John Lee Hooker Jr., The Berklee Gospel Ensemble, Susan Tedeschi, Lalah Hathaway, Mark Ford, Mikan Zlatkovich, The Pointer Sisters, Buddy Blue, Danny Green, Sa Davis, Neil Itzler, Victor Mendoza, Ricky Arroyo, among others!
Free Livestream: Joey Sellers Quintet
Saturday, March 20 at 4 p.m. PST
featuring Joey Sellers, trombone; Jerry Pinter, saxophones; Adam Bravo, piano; Ernie Nunez, bass; Dean Koba, drums
This concert will feature original music and unique arrangements of the Great American Songbook.
Joey Sellers is a highly regarded composer, arranger, trombonist, and educator. He is a recipient of the Gil Evans Fellowship in Jazz Composition, the Sammy Nestico Award, and the Julius Hemphill Composition Award.
An accomplished composer in both jazz and classical idioms, Sellers has written for Doc Severinsen, the Lincoln Center Jazz Orchestra, symphony orchestras in Tulsa, Long Beach, and San Antonio, and several works commissioned by the St. Louis Brass.
Sellers has played and recorded with internationally recognized jazz musicians, including Dave Liebman, Joe LaBarbara, Bruce Fowler, Lew Tabackin, Kim Richmond, Allen Vizzutti, Conrad Herwig, Bobby Shew, Tony Malaby, Mike Formanek, Clay Jenkins, Toshiko Akiyoshi's Jazz Orchestra, and the Kenny Wheeler Large Ensemble.
Sellers freelanced for years in New York City and Los Angeles and was an assistant professor of jazz studies at Northern Illinois University. He currently heads the jazz program at Saddleback College and teaches improvisation, jazz ensembles, composition, and jazz history.
---