20qs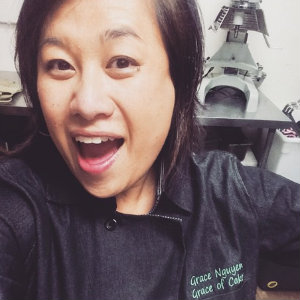 Grace Nguyen
05.26.15
1. You're a high school counselor by day, and baker by night. How do you balance both? What's your typical day look like?
Yes, I am both a counselor and a baker. It is hard to balance both right now. I don't sleep much lately, but I try my best. I have to balance myself by planning ahead a lot. I have to strategically plan my schedule so I can realistically complete baking orders while knowing I have to work at the school most of the day.
My typical day is getting to the school at 7:30 a.m. I usually meet with several students throughout the day, attend several meetings, answer emails/phone calls and deal with random issues that spring up. I leave work around 4 p.m. and head home, eat a quick dinner, walk the dogs and then either run to the store to buy ingredients and/or head over to the commercial kitchen I rent/share with a restaurant in Orange and work on whatever order is needed. I usually don't finish until around 11 p.m. because I do everything myself...prep, baking, cleanup. I get home around 11:30 p.m. and get ready for bed around midnight or so and then wake up at 5:30 a.m. the next morning. Not an ideal situation, but I'm making it work.

2. How can we find your baked goods?
My cakes, cupcakes, cake pops and cookies are all custom order, so people need to contact me individually and I usually deliver. Seabirds Kitchen in Costa Mesa at the Lab Anti-Mall sells my vegan pop tarts and vegan bourbon banana bread. I'm working on some seasonal vegan quick breads for them. Right now lemon blueberry is where I'm headed. I hopefully in the future, will sell other items at other establishments, but I am not quite ready for that yet.

3. Favorite Grace of Cakes bakery item that you make?
I don't just have one. Sorry. But I do have favorites by category.
Cookie: Bourbon Brown Butter Chocolate Chip Cookies.
Bar: IPA Beer Lemon Bars (sounds weird, but it is soooooo good).
Cake: Carrot Banana Pineapple cake with cream cheese frosting.
Bread: fresh out of the oven pretzel bread with some salt.
Pastry: Bourbon Peach pop tart with vanilla glaze

4. What's your most prized possession?
My 20-quart Globe mixer. His name is Sir-Mix-Alot. I also have a 6-quart architect KitchenAid mixer and a basic 5-quart KitchenAid mixer. The 6-quart is named Mix Jagger and the 5-quart is Mixchelle Pfeiffer. I know...dorky, but I like to have fun. These are my babies.

5. Fantasy purchase?
A refrigerated van! That would be awesome!

6. What can't you live without?
Baking world? My mixers, offset spatulas, cake turntable, and exacto knife.
Generally? My dogs, my bed, my phone and pizza! Ha!

7. What's next on your "to do" list?
I have several cakes and cake pops for graduations, birthdays and weddings. I'm working on expanding my vegan desserts options for Seabirds Kitchen. I am also continuing my experiments with using different kinds of spirits in baked goods. That is always on my to do list.

8. Biggest regret?
My biggest regret is not attending culinary/pastry school. I honestly wish I had pursued the education because I know I would truly love learning not only the art and skills, but the technical knowledge, too. I've been teaching myself through lots of reading and videos, but there is something about getting the formal education that I think would make me so much more confident.
9. Cause that you're most interested/involved in?
I was very involved in the past with various groups through my church, Mariners Church. Most of my volunteer work has been with underprivileged kids and teens. That seems to be where my heart is most interested in helping. I was previously involved with Lighthouse Ministries which is part of Mariners Church. I would volunteer in various ways to help underprivileged kids in the inner city of Santa Ana. I mostly helped the teens. I haven't done it in awhile, but I still have a place in my heart for that community. I have been involved in the past with homeless families and youth. I am hoping to find more time so I could use my baking skills to help in some capacity whether it is to feed the homeless or teach baking skills to young women so they can become employable. I haven't figured it out yet.

10. Your dream day in Orange County?
Number one is NO TRAFFIC on any freeway or roads. Ha. Seriously, though. That is what prevents me from doing more. My dream day would consist of spending as much time with friends as possible. Start off getting coffee at Kean or Portola then breakfast at Flappy Jacks. Then, maybe a long walk on the coast like San Clemente or Dana Point somewhere with friends and dogs. Maybe a nature hike at a local canyon area, followed by lunch in either Old Town Orange or 4th street market in Downtown Santa Ana and then walking around downtown Santa Ana. Later night would be brewery hopping around North Orange County with friends. I'd be all over OC just eating and drinking with friends if I could. I'd walk everywhere if I could.

11. Favorite place for breakfast?
Flappy Jack's Pancake House because it has everything!

12. What was the best day of your life?
I don't think I've had the best day yet. I feel like I have so much more to do in life and the best day will come.

13. Last concert that you went to?
I love music, all kinds of music. The last concert I went to was the album launch party for Tuxedo at the Regent Theatre in LA. It is Mayer Hawthorne's side project. It is a funk/soul album and I love that type of music. It was a smaller venue so I was able to stand right in front center. It was awesome.
14. Favorite vacation spot?
Outside of the U.S., has to be Tahiti and Bora Bora. I love the water, the island, the food, everything.
Within the U.S.? I love San Francisco, New York City and Kauai.

15. If you had to live somewhere else, where would you like to move?
I could see myself living in San Francisco if I could afford it. I LOVE that city. I love the vibe, the art, the food, and the fact that I could walk or take public transportation is fantastic.

16. Favorite books?
I'm not a huge reader, unfortunately. I mostly read cookbooks. Ha! I do still love all of the Anne of Green Gables series. It's classic, but still great.

17. Favorite restaurants in Orange County?
Oh lordy. I'm such a foodie. I eat everything everywhere. My favorites are the Playground, pretty much everything at 4th street market, Peter's Gourmade, Seabirds Kitchen, Brodard, Cream Pan, TLT Food, Santouka Ramen, Lola Gaspar, Gyu-Kaku, Full Moon Sushi. There is so much more, but I'll stop here.

18. Biggest accomplishment?
It's probably so far, earning my master's degree several years ago. It was not easy especially since I was working and interning at the same time but I was able to finish grad school on two years. I would also say owning my own business while working at the school.

19. What's your biggest fear?
Failing in my personal and professional life. Obviously, no one wants their business to fail. I also don't want to lose a sense of who I am as a person.

20. Secret most people don't know about you?
I worked at the Disney store for two years during college. I hated it.
---