20qs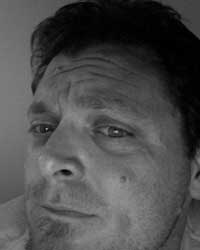 Greg Magnus
05.16.09
1. What character in a movie or book do you most identify with?

Wow... identify with? I see myself -- or parts of myself -- in a lot of characters. If you asked me this question 15 years ago, I'd probably say Florentino Ariza from "Love in the Time of Cholera." I liked that he got the girl -- sorta -- in the end. I must admit, I'm also a big sucker for Cyrano de Bergerac ... I just hate the denouement.

2. Who are your favorite authors?

I go on jags. It used to be Hemingway, Bukowski, Abbey, Naipaul, Paul Theroux. I love the humor and absurdity of Carl Haissen, but I can usually read his books in one day. It continually astounds me that there are people out there like Norman Mailer, Ken Kesey, Tom Wolfe, James Clavell and Nikos Kazantzakis who can hold my attention for more than 700 pages.
3. Favorite vacation spot?

It really is hard to beat Laguna Beach or San Diego on a nice day. But like the song says, "I love Paris in the spring time...
4. Where haven't you been that you're dying to go?

Lagos, Nigeria. Femi Kuti has a nightclub called The Shrine that I'd really like to go to. There and St. James' Gate in Dublin, Ireland.

5. What's your next major goal in life?

I guess it's to hit the career jackpot. I need a long-term gig in the SoCal area so I can get my life back on track. The last few years have been pretty ragged, career and lifestyle-wise.
6. Who had the biggest influence on your life?

My parents obviously have had a huge impact on my life. They shaped who I am and how I live, but if I were to be more hardheaded I'd say it was the guy who fired me a couple of years ago. He changed my life overnight with one piece of paper.

7. Favorite drink?

Why can't I give a straight answer to anything? I love me some coffee, but I drink too much of it. If you put a Capt. Morgan's and diet Coke in front of me, I'd probably drink it.

8. Favorite restaurants in Orange County?

I've had some good meals at Ikko Sushi in Costa Mesa and Sugar Shack in Huntington Beach, but other than that I don't get out too much. I like what Mother's and Native Foods are doing too, but Carnitas Los Reyes in Orange or Gamy's in Santa Ana will probably be where I eat my last meal in Orange County.
9. Last major purchase?

I dropped a couple G on a laptop, HDV camera, tripod, etc., last year. It was kind of a bulk purchase, but very necessary.

10. Dumbest investment?

Some people might say it was the money I spent on said gear, but if I had to narrow it down I'd say it was the full tank of gas and car battery I bought for a vehicle that was towed away later in the day, never to be seen again.

11. A famous person you'd love to meet?

Does the President count as famous, or is he just the President? Besides Obama, maybe Ozzy Osborne or Stephen Colbert.

12. Biggest accomplishment?

It's nothing I did alone or even had a major part in, but I was co-captain of my high school's first lacrosse team. The program is still going strong and they were even state champions at one time, so I'm pretty proud of the part we played in that.
13. What's your biggest fear?

Besides becoming a 900-pound, shut-in and having all my teeth fall out? I guess just being a big failure, not being able to do what I love and being forced to do something boring and meaningless that traps me into a cycle of never-ending despair... that scares the shit out of me.
14. Who is your favorite artist?

Like painter? Van Gogh is obviously amazing but I'm dazzled by the output and variety of work of people like Max Ernst or to a much, much greater extent, Leonardo da Vinci. Coltrane is an artist too in my book, but he painted with music.


15. If you had to begin a different career, what would you do?

This question has been on my mind a lot recently actually. In hindsight I guess I would have looked more seriously into physical therapy while at college like I said I was going to do, instead of joining the school paper. But if I had to start a new career today, I guess I'd grab a screwdriver and learn how to install photovoltaic cell panels.
16. Secret most people don't know about you?

I probably cry at movies more than most people... thank goodness the theater is dark.
17. Who is your favorite fictional character?

Man... that's too hard. I love tough guys that don't always get their way but you can count on when the chips are down. Guys like Rick from "Casablanca," or Indiana Jones or Magnum, P.I., or even McGarrett from "Hawaii Five-0," though he's a little too well dressed and coiffed to hang out with the likes of Conan or Dirty Harry.
18. Your biggest extravagance?

I guess my music and my books. I know kids today probably think it's quaint that people actually spend money on music, but when I used to go to record stores I had a hard time getting out of there for less than $70. Now I log onto iTunes and try to keep the damage to a minimum. It's the same with used book stores. I usually walk out with an armful of books. My girlfriend tells me to go to the library, but there's something about adding to your personal collection I really enjoy.
19. What's your favorite CD?

Is it wrong I can't narrow it to one? I have favorites, of course. The John Coltrane/Johnny Hartman collaboration is top three for sure, it's just kind of a sad album and it's only six songs so eventually you can listen to it too many times in a row. Same with Stan Getz/João Gilberto, both are perfect albums but eventually I'd need to listen to some Ol' Dirty Bastard or Black Sabbath.

20. What was the best day in your life?

Ask me again later. Hopefully it hasn't happened yet.
---