Blog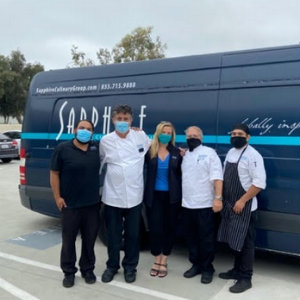 Miracles for Kids Families Receive 500 Meals
06.10.20
Miracles for Kids serves our community's most vulnerable critically-ill children and families in desperate need as they battle the combined impact of a life-threatening illness, a devastated economy and the effect of COVID-19 on their child's already compromised immune system. Through a $25,000 grant from WeTogether to LeadOC, Miracles for Kids was selected as the beneficiary of an initiative to provide 500 meals to low-income families in need throughout Orange, Los Angeles and Riverside Counties.
The meals are being provided by Sapphire Culinary Group and with the help of volunteers, each Thursday, the meals are delivered to a network of families with the option to pick up meals, for the families who are able. This Thursday, June 11 from 8:30-11 a.m., the volunteers and families will pick up meals from Earth Friendly Products' headquarters in Cypress.
Chef Azmin Ghahreman and his staff at Sapphire Culinary Group will prep and serve meals from the Sapphire Truck while WeTogether, LeadOC and Miracles for Kids volunteers and staff ensure families receive this much-needed food.
---