20qs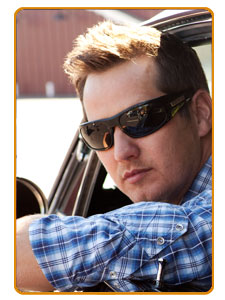 Murphy Karges
10.11.09
1. If you had to begin a different career, what would you do?
Writer/Director documentaries and films.

2. What's your most prized possession?
1968 Dodge Charger

3. Favorite drink?
Tie: Metromint water & fountain coke.

4. What are you cutting out because of the economy?
Rounds of golf at Pelican Hill, and dinners out.
5. Fantasy purchase.
A family vacation home on a golf course in Palm Desert.

6. What can't you live without?
My iPhone. It's my new drug. I know that's a boring answer but it's true. It helps me go to sleep every night on the road. I'll get in my bunk after a show, and I'll be wired but then I'll just start reading things on the Internet, checking scores, etc, and it just slows everything down and then I pass out. Before it would have to be the TV or a computer or a book. The iPhone is kind of all those wrapped up in one.
7. What's next on your "to do" list?
Finish my book.
8. Biggest regret?
Would anybody ever write his or her TRUE biggest regret? I don't think so. You bury that one away. But of the ones that people actually write down, let's say I regret not having a video camera on for all of the Sugar Ray van rides so that I could have made a documentary called "Van Ride" that would have been the most entertaining movie of all time.
9. Cause that you're most interested/involved in?
www.musicforacure.org
Our non-profit that gets music and instruments into the hands of children in
hospitals.

10. Your dream day in OC?
Breakfast in bed with my kids, then dawn patrol surfing with my three boys. We get tubed for hours, my wife is out there too, and then we all go to Wahoo's for lunch. Then I go golfing (at the old Pelican) with my dad and brother. My brother knocks in a hole-in-one, my dad chips in for eagle, and I card 11 birdies to shoot 65. My brother and dad break 80. We head home for gathering of family, friends and neighbors to celebrate my best seller at our renovated house in Costa Mesa. Sugar Ray plays an intimate acoustic set, and everyone has a great time, singing and drinking together into the night.

11. Favorite place for breakfast?
Roses Donut & Café for the egg white & spinach burrito, Julie's Kitchen for pancakes, Taco Mesa for their chorizo egg tacos or Panera for egg soufflés.

12. What was the best day of your life?
Tie. wedding day and kids being born.
13. Last concert that you went to?
AC/DC in Albany during our summer tour.
14. Favorite vacation spot?
Palm Desert. But it's changing out there. It used to be a little more laid back and quiet. Now it's kind of crazed. More casinos, more Internet, more what-the-city-has. Which is what the desert always was NOT. But the peacefulness of the desert is still there. I love how you go to dinner at 5:30 at http://www.lascasuelas.com/" title="Las Casuelas">Las Casuelas, then play Scrabble at home or soak in the Jacuzzi and go to bed at 9 p.m.

15. What do you love and hate about Orange County?
LOVE that we have great sports teams (ANGELS & DUCKS!), great weather, great surf and snow locally. Great golf courses you can play year round, and a lot of amazing people. I like all the hole in the wall places to eat that are created by actual residents: Chronic Tacos, Wahoo's, Taco Mesa. I dig the sandwiches at A Market. Best new sandwich in town.
HATE that it's changing from the way it used to be in the 70's and even the 80's, when my grandparents lived here, it was really laid back and not about getting breast implants and driving your Bentley to your kids' private school and having a house with 9 bedrooms. It was a just a nice beach community by the water. It was more surfed out than people think. Remember how the Chart
House started? The waiters used to wear OP shorts and serve you dinner. How cool was that? It was just a different time. Now to me it seems more crass and superficial but it's still an awesome place. The people who are righteous about being real will always come through and win out over the people who are around for the wrong reasons.
16. Favorite books?
"If You Want To Write," "The Old Man and The Sea." "Watchers." "Catcher In The Rye," "Love Is a Dog From Hell," "The Pearl" and my Bible that my aunt gave me in 1994.

17. Favorite restaurants in Orange County.
Wahoo's Fish Taco. Pizza Bakery. Taco Mesa. A Restaurant. Chronic Tacos. Javier's. Mi Casa. Champagnes Market for the pulled pork sandwiches (good move changing the name back), Al's NY pizza, C'est si Bon, Cathay Newport (no longer there it's now a bank!) Spaghetti Factory, Ruby's, TK, Mother's Market.

18. Biggest accomplishment?
Getting my wife to marry me. I chased her for quite some time. My dad called me either the stupidest or most patient person ever. Also receiving my first gold record. That was an unbelievable validation for someone who played guitar every day and had no backup plan. My mom was funny. She'd try to help me get a 'real' job. She'd say, "Honey, a position has opened up at UCI for a radiation assistant." I'm like, "It's okay mom. I'm just gonna deliver pizzas until I make it with the band…" It seemed like the odds were against us. A band from Newport? No band had ever come from Newport and done anything. We started in a living room in Harbor View Hills (Mark's mom) and a beach house at 48th street (McG rental) and we sold 10 million records to
date. I hope that can inspire young bands from here.
19. What's your biggest fear?
That I would die too early and not get to see my kids grow up.

20. Secret most people don't know about you.
That I get stage fright.
---