20qs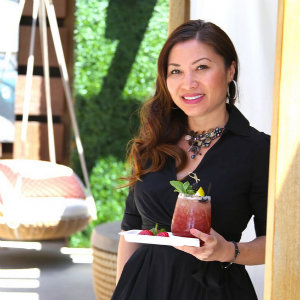 Nancy Kerr
04.09.18
1. Where did you grow up?
I grew up all over Orange County. We moved about 14 times because my mom was a single mom of seven kids for most of my childhood until we were reunited with my dad in my later years. We finally bought a home in Westminster in my teen years where I stayed put.
2. What inspired you to start your own company?
I wanted to solve a problem, and then the sudden tragic death of my father pushed and inspired
me to get past my fears of starting a business.
3. How do your plates differ from other party plates?
Plate-A-Cup™ differs from other plates because it can be used with a can, cup, bottle or wine glass. Other products out there typically only hold a wine glass or bottle. What also makes Plate-A-Cup™ different is that it is made of sugarcane, making it tree-free, plastic-free, biodegradable, compostable and sustainable. Most other products out there are made of plastic, which does not biodegrade like our plates.
4. What are some of your challenges?
Some of my challenges are having a small marketing budget and convincing caterers to try my product. Another challenge I was not expecting was having to educate people on how to use Plate-A-Cup™. A lot of people have never seen Plate-A-Cup™ before, so they don't instinctively know how to use it. When they do learn how to use it, they love the idea.

5. What inspires you?
My children, my faith, and my desire to want to do good things in the world with my business.
6. From all of the food festivals, events and parties that your plates have been at, what was the most memorable?
The Eater Young Guns event because I was able to attend the event and witness so many people having a great time with Plate-A-Cup™ in their hands. It was memorable, because my business was new and it was so exciting to see my vision play out.
7. Businesswise, what are you most proud of?
I had no business experience prior to this and remembered being clueless, so the fact that I was able to conceive a product and materialize it is something I'm proud of.

8. What does a typical day look like?
A short quiet time in prayer and gratitude for my health and loved ones. Then all the typical things of owning a business: phone calls/emails trying to find new businesses, dropping off samples to potential customers, sometimes making order deliveries if the customers are local, administrative tasks, getting distracted and caught up in group texts with family and friends.

9. You were just involved in Orange County Fashion Week, tell us about that.
The producer of OC Fashion Week, Kathy Marino had a food styling competition on their opening day at the new Hive & Honey Rooftop Bar in the Marriott Irvine Spectrum. Three chefs from The Art Institute of California participated in the food styling challenge where they had to create a dish that not only had to be appealing to the palate but also appealing to the eyes. Kathy Marino is a fan of eco-friendly, sustainable products, so she chose to use Eco-Eats™ Partyware's sugarcane plates to present the food on for the competition. I also got to be a judge in the event, and that was a lot of fun.
10. What are you most excited about?
I'm excited about growing my business and the good things in the world I could do with it. I don't just want to be a for-profit business, but I want to be a for-purpose business.
11. Who had the biggest influence on your life?
My mom for raising me with a belief in God and my sisters who have been some of my biggest advocates, encouragers and supporters. My sisters are my best friends.
12. What's next on your to-do list?
Scaling my business and getting my product Plate-A-Cup™ nationally distributed in retail stores and to caterers, hotels, and event planners.

13. Do you have any pet peeves?
I'm usually not easily offended and annoyed, but a few of my pet peeves are when people leave their shopping carts in between cars and people that litter and spit gum on the ground.

14. What cause are you most interested in?
There are so many that I'm interested in, but a few are human trafficking, animal rights, environmental, and providing clean water for 3rd world countries.

15. Where do you see yourself in five years?
I'm hoping my business would have grown a lot by then, going on more missions trips, traveling and enjoy life with the people I love.
16. What do you do to relax?
Gardening, reading a book, zoning out on mindless youtube videos, bike riding, spending time with my friends and family.
17. Do you have a favorite vacation spot?
I don't have a favorite, but I really enjoy any tropical beach destination.
18. If you had to choose a different career, what would that be?
If money and health was not an issue, probably a food critic because I like food…a lot!

19. What are some of your favorite restaurants in OC?
I prefer simple good food over a fancy restaurant, like Captain Jacks in Sunset Beach, finger food at Kickin' Crab, or authentic food from hole-in-the-wall Vietnamese restaurants. For atmosphere and food, I've really been enjoying all the new restaurants at Pacific City in Huntington Beach or a recent discovery, BLK Earth Sea Spirits down the street off Main / PCH.
20. A secret most people don't know about you.
I secretly have always wanted to play the drums.
855-ECO-EATS (326-3287)
714-420-1588
info@ecoeatspartyware.com
---