Greer's Blog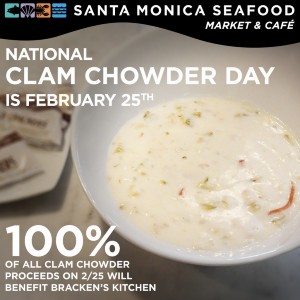 Santa Monica Seafood Clam Chowder Day Benefits Bracken's Kitchen
02.24.21
Santa Monica Seafood Market & Café will be celebrating National Clam Chowder day this year on Thursday, February 25th and planning on donating 100% of the Clam Chowder proceeds to benefit Brackens Kitchen.
Visit BrackensKitchen.org to learn more about their mission: "Through food recovery, culinary training and our community feeding program we are committed to recovering, re-purposing and restoring both food and lives."
Bracken's Kitchen is committed to providing over 1.8 million tasty and nutritious meals in 2021.
Open 9 a.m. to 7 p.m.
Santa Monica Seafood is at 154 E 17th St, Costa Mesa,
And, at 1000 Wilshire Blvd. in Santa Monica.
---