Greer's Blog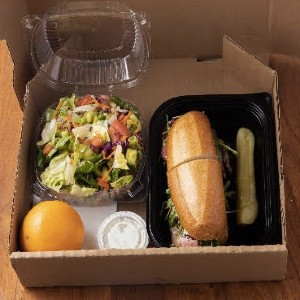 STONEFIRE GRILL's NEW TRIO OF SANDWICHES AND BOXED MEALS
05.11.21
Stonefire Grill, Southern California's fast-casual dining destination known for its generous portions of scratch-made, classic American-inspired dishes and time-honored recipes, is bringing back the sandwich—a sub, a club and a stack--to its menu. The trio, created by Executive Chef Taylor Boudreaux, will be available at all 12 locations throughout Ventura, Los Angeles, Orange and San Bernardino Counties as well as Stonefire Grill's sister restaurant, Rattler's Bar B Que, in Santa Clarita.
Guests can savor:
Tri-Tip Chimichurri Sub -- slow-roasted tri-tip topped with crumbled feta, pickled red onion, crisp arugula and Stonefire's signature chimichurri aioli piled high on a fresh artisan-style roll. $12.69 a la carte, $13.59 Boxed Meal
Roasted Turkey Club – all-natural turkey breast (no antibiotics, hormones, or sulfates) topped with hardwood smoked bacon, slow-roasted Roma tomatoes, crisp arugula, pesto aioli and brie placed between an artisan-style roll. $12.79 a la carte; $13.70 Boxed Meal
Roasted Vegetable Stack – served chilled with roasted red bell pepper, lightly charred zucchini and yellow squash, pickled red onion and pepper jack cheese stacked on a fresh artisan-style roll and schmeared with a black bean puree coupled with Stonefire signature chimichurri aioli with a crowning of fresh cilantro. $10.99 a la carte; $11.99 Boxed Meal
While each sandwich is uniquely different, all are served on artisan rolls provided by Los Angeles-based Larder Baking Company whose co-founder is celebrity chef Suzanne Goin of Lucques fame. Many of the farm-fresh vegetables are also locally sourced, which Chef Boudreaux feels is important.
While the sandwiches can be ordered a la carte, the boxed option offers a complete meal and includes a dill pickle and a choice of Gramma Tay's Potato Salad, a garden or Caesar salad, or Zapp's VooDoo Kettle Chips, a favorite from Chef Boudreaux's childhood and Louisiana upbringing.
Stonefire Grill's trio of new sandwiches and boxed meal options are available at all 12 locations as well as Rattler's Bar B Que, Stonefire's sister restaurant in Santa Clarita. For more information or to find a Stonefire Grill near you, visit online at stonefiregrill.com.
---