Blog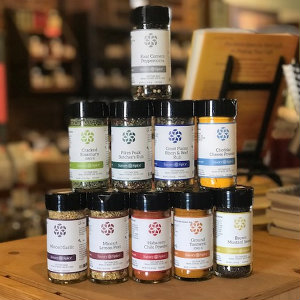 The Freshest Herbs and Spices at Savory Spice Shop
08.09.19
Savory Spice Shop at the OC Mix in Costa Mesa is a great one-stop-shop for all things spice. Home cooks to serious chefs and everyone in between can find the perfect herbs, spices, specialty salts, and custom blends in quantities from ounces to pounds. There are more than 400 varieties to choose from!
All seasonings are GMO-free and do not contain additives or preservatives. Each spice merchant is extremely knowledgable about spices, quantities, how long spices last and recipe tips. You can also taste spices before you buy so you know exactly what you're choosing.
Savory Spice Shop has also partnered with Stonewall Kitchen Cooking School and offers cooking classes that are demonstration only with plenty of opportunities to learn new tips, ask questions and interact. All classes are held at the Macy's Home Store at South Coast Plaza in Costa Mesa. And you can enjoy generous portions of each course and a complete recipe packet to recreate the meal at home.
The next two classes are: Spice Girls class with Lauran Shute on Friday, August 16 from 4:30 p.m. – 6 p.m.
Menu
• Hibiscus-Lavender Lemonade
• Caribbean-Spiced Slaw
• Blackened Shrimp Tacos with Peruvian Lime Rice
• Strawberry-Rhubarb Fried Hand Pies

You can sign up and learn more here.
Italian Delights – on Saturday, September 21 from 4:30 p.m. – 6 p.m.
Menu
• Arancini with Romesco Sauce
• Linguini with Clam Sauce
• Moscato Poached Pears with Gelato
You can sign up and learn more here.
Open 10 a.m. to 7 p.m. Monday to Saturday; 10 a.m. to 5 p.m. Sunday.
Savory Spice Stop, Costa Mesa is at 3313 Hyland Ave. in Costa Mesa. 949.284.0576.
---