Greer's Girls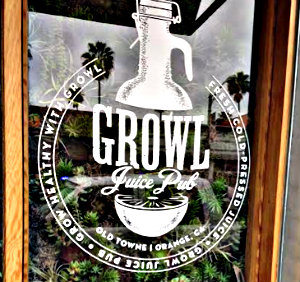 The Juice Pub of Choice
02.12.14
By Kelley Moody
Growl Juice Pub in Old Towne Orange is one of the newer additions to the plaza. It offers 100% organic juices, bowls, smoothies, and more. The offbeat design of the bar is welcoming and well complimented by the sugary and natural tastes inside.
The Circle Sunrise Bowl is a favorite at this sweet juice stop. Topped crispy flakes of coconut and fresh fruit, this bright snack will leave your mouth watering with its tangy pineapple aftertaste.
Other favorite drinks include the Green Gold juice, full of healthy veggies with a ripe taste, or the Panther's Blood mixing a variety of rich flavors. Growl also offers a detox cleanse for $65 a day. Each purchase includes 8 bottles and is recommended for three to five days.
Open 8 a.m. to 8 p.m. Monday through Friday; 10 a.m. to 6 p.m. Saturday and Sunday.
152 N Glassell St, Orange. 714.538.5338.
---