Dining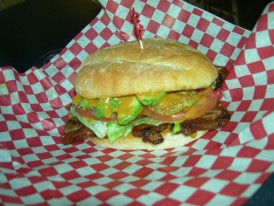 BEACH PIT BBQ, CHEF JOE AND THE BACON SANDWICH
02.04.11
Review By Sheryll Alexander
What happens when you take an already good barbecue restaurant and let a fine dining chef tweak the menu? Pure country goodness, my friend.
Yep, Beach Pit BBQ owner Tim DeCinces and former Savannah Chop House and Chat Noir Chef Joe Youkhan (who now has a mobile gourmet food truck in The Wooden Spoon OC) have teamed up to overhaul the menu from top to bottom and to create some new menu items for the Beach Pit's six OC locations.
First up on the new menu is the bacon sandwich. No, we are not talking BLT here. Chef Joe cures pork belly for three days and then smokes it for eight hours. When ready to serve on your sandwich, the pork belly is cut, sautéed on the grill and then stuffed on a hamburger-like bun with fried pickles, lettuce, tomato, avocado and Joe's new "California gold" mustard sauce. We tried the bacon sandwich and it was tender and crispy and smoky and creamy all at the same time. Yummy!
Some other new menu items worth noting are the super creamy macaroni and cheese, the really-good-for-you tender collard greens and a house made blueberry lemonade that smacks of tart sweetness.
Chef Joe has also changed up the way Beach Pit's ribs are seasoned, mopped and smoked. We were impressed with how the new ribs are super tender and don't need any sauce to cover up the already perfect spices. These "new" ribs at The Beach Pit are definitely finger lickin' good!
For Sunday's Super Bowl, Beach Pit BBQ is offering a Pig Skin Party Pack, which feeds 10 hungry football fans. Costing just $5.99 per person, the package features three pounds of pulled pork or beef brisket, 10 sandwich buns, a pint of barbecue sauce, two quarts of sides (either beans, potato salad, cole slaw or macaroni and cheese) and 20 hot wings (with ranch or bleu cheese sauces).
You must order 24 hours ahead of game time by calling one of six Beach Pit BBQ locations:
Costa Mesa, 1676 Tustin Ave., Costa Mesa., 949-645-7427
Old Town Tustin, 560 El Camino Real, Tustin, 714-929-7427
Old Towne Orange, 128 N. Glassell St., Orange, 714-633-7427
Downtown Huntington Beach, 301 Main St., Huntington Beach, 714 374-3033.
Laguna Niguel, 32371 Golden Lantern, Laguna Niguel, 949-496-7427.
Aliso Viejo, 926541 Aliso Creek Rd., Aliso Viejo, 949-362-7427.

Sheryll Alexander is a lifestyles writer based in Costa Mesa, California.
---
More Daily Doses